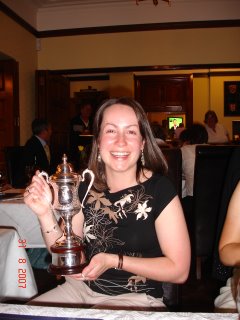 Inverness WPC Donna
wins Scottish police title
Donna McLeod from Inverness, winner of the British policewomen's golf championship last year, won the Scottish policewomen's golf title at Murcar Links and Kemnay this week.
Under the handicap format, Donna, who plays off five, had a net 72 at Kemnay and a net 76 at Murcar Links for an aggregate of 148.
She won by three shots from Angela Barr (Strathclyde) (26) on 151 with Linda Allan (Strathclyde) (3) third on 154.
"It's the first time I have won the Scottish police title so I am delighted, specially as I lost the British title at Fairhaven, Lancashire last week," said Donna, who is a Northern constabulary officer.
"I was fourth with a total of 166, two shots behind the pair who tied and had a play-off for the title - Bethan Jones, a former Welsh international who plays off two, beat Jackie Foster from Hertfordshire at the first extra hole.
"But it's been a good season so far. I won the Inverness Golf Club women's championship in July, for the first time since 2000."
The men's Scottish police championship at Kemnay and Murcar Links finished with Eric Jardine (Strathclyde) beating Scott Reid (Lothians and Borders), Ronnie Yule (Grampain) and Alan White (Dumfries & Galloway) in a three-hole play-off after they had all tied on 145 after 36 holes' stroke-play.
+Switch over to
www.scottishgolfview.com
to read the full list of prizewinners at this week's Scottish Police Golf Association championships.
Labels: Amateur Ladies, Amateur Men