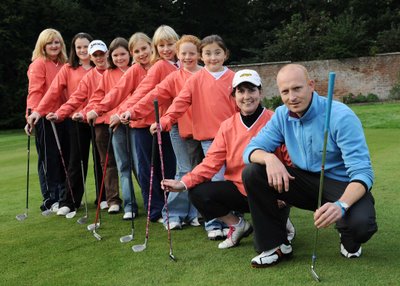 Kelso's girls only clubgolf coaching group with volunteer coach Fiona Ker and Pro Steve Johnston at the Roxburghe (image by Rob Eyton-Jones).
Kelso lead Borders' way with girls-only coaching
PRESS RELEASE ISSUED BY ROB EYTON-JONES
Kelso, one of the first Border golf clubs to sign up for the national junior golf programme,
clubgolf,
has become one of the first clubs in the Borders to begin girls-only coaching.
Doubling the number of girls playing golf in Scotland is a clear goal of clubgolf, the partnership between the Scottish Golf Union, the Scottish Ladies' Golfing Association, the Professional Golfers' Association, the Golf Foundation and sportscotland, which emerged from Scotland's successful bid to host the Ryder Cup.
Research in 2005 showed there were fewer than 50,000 female golf club members (as opposed to 198,500 male club golf members). In the under 18 level, there were 25,000 boys but just 2,700 girls. Compare that to Sweden, which has more than 22,000 girls under the age of 18 playing golf and drastic action was needed.
"We had plenty of boys at Kelso but we didn't have a single girl," said Fiona Ker, who along with fellow club member Eleanor Pearson became a clubgolf volunteer coach two seasons ago.
"We felt something had to happen so we decided to encourage the girls by keeping them in the same coaching group developing their friendships therefore enjoying coming to our sessions."
By starting girls-only golf coaching Kelso are using a formula piloted in Grampian two years ago. So successful were Aberdeenshire clubs in retaining girls that last year clubgolf's Girls in Golf programme was launched nationwide by tour players, Kathryn Imrie and Clare Queen.
"We got six girls involved in the first year and they had an absolute ball and bonded well," said Mrs Ker. "This season we've got the girls group up to 10 and some weeks they can have up to three nights of coaching.
"We have our own weekly coaching sessions at Kelso. Steve Johnston sees them on a Thursday for coaching at the Roxburghe. The Border Ladies have also been actively supporting the youngsters by arranging a monthly clinic with Frankie Scott, the Pro at Ashkirk."
Steve is delighted with the girls' progress and is already planning further coaching through the winter months. "The foundations are already there because of the time and work Fiona and Eleanor have put in at the club," he said.
"The girls are extremely keen and they work well together. The key is having them working in pairs so they can help each other; whoever is not hitting is checking what the other person is doing so they check up on what they've been taught.
"We'll just keep building on what they know and next summer we will aim to get some handicaps organised, reduce handicaps of those that have already got them and hopefully see more progress."
One of the group, 12 year old Danielle Ker, has been playing golf through Kelso's clubgolf programme and already boasts a handicap of 34. A perfect advert for girls-only coaching, she is making her mark in competitions after winning three events this summer.
"Golf is my favourite sport and I want to do my best at all times and get quite far with it," she said. "I've played in mixed groups before but the coaching is a lot more fun when you're just with girls, and more sociable too."
This week, before their eleventh coaching session of the summer at the Roxburghe course the girls were presented with official kit from the Post Office who have stepped forward to help the girls only cause.
"The Royal Mail Sports Foundation have given us a grant of £200," said Mrs Ker. "We have used it to purchase wind tops which we have had their names embroidered on. It's great to see them all together in the same kit out on the course."
Like the other seven girls, eight year old Megan Brennan was thrilled with the new kit, "The tops are a different colour that people wouldn't normally wear. They're bright and they've got our names on them. They're really cool."
The 2008 golf season might be nearing its closing stages but the Club is already planning the next stage in the evolution of its girls coaching, an inter club event with girls from other local clubs.
"It will be quite a challenge because there aren't many clubs in the Borders who have girls at this level," said Mrs Ker. "We need to get enough youngsters who are capable of playing at least nine holes.
"One of our girls has a handicap and at least two more should have them next year. These are girls who started last year so it shows what's possible."
If your golf club is interested in introducing girls only coaching, starting a clubgolf junior development programme or you are a girl that is interested in playing golf then please contact Laura Rushby, clubgolf East Regional Manager on:
Tel: 07956 540595 or email:
lrushby@clubgolfscotland.co.uk
Labels: clubgolf