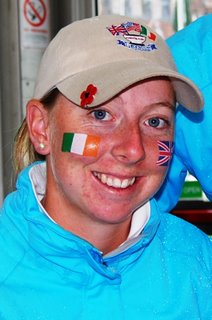 Krystle finishes jt fourth in
US college season debut
Krystle Caithness finished a creditable joint fourth in a quality field of 75 players for the Fall Preview, the opening event of the 2008-2009 US women's college golf season at Caves Valley golf course, Maryland.
Curtis Cup player Krystle, 19, from Cellardyke, Fife, had rounds of 70, 72 and 74 for a level par aggregate of 216 over the par-72, 6,216yd course. Krystle is pictured right by Cal Carson Golf Agency (all rights reserved).
She had four birdies in each of her first two rounds but only two in her final round and, in the final analysis, bogeys at the 15th and 16th cost her third place.
Sweden's Caroline Hedwall, who enrolled at Oklahoma State University only a couple of weeks ago, made a great American winning debut. She scored 73, 70 and 69 for four-under-par 212 to win the individual title ahead of another Swede, Anna Nordqvist (Arizona State) who beat her in this year's final of the British women's amateur championship at North Berwick.
The Scot finished ahead of American Curtis Cup star Amanda Blumenherst who won the US women's amateur title last month, and Belen Mozo, the Spaniard who won both the British girls and British women's amateur championships in two years ago.
Blumenherst shot a final round of 71, but still had the worst finish of her college career. Her joint 14th finish was the first time the three-time Golfweek College Player of the Year has finished outside the top 10.
Former English girls champion Ellie Givens (Denver) had a nightmare start to the season. She scored 77, 76 and 81 to finish joint 47th on 234.
Krystle Caithness's efforts enabled her university, Georgia, to finished fourth of 15 in the team event, no mean feat considering that top-ranked Duke University came eighth. Had she got more support from her team-mates, Georgia could have finished runners-up to title winners Arizona State who will have an even stronger squad come January when European women's amateur champion Carlota Ciganda from Spain enrols at the university.
Georgia team-mate Marta Silva was only a shot behind Caithness after two rounds of 72-71 but she slumped to a closing effort of 82 which must have been not only disappointing for the Spaniard, it was a body blow to Georgia's top-three team finish hopes.
HOW THEY FINISHED

Individuals
Par 216 (3 x 72)

212
Caroline Hedwall (Oklahoma State) 73 70 69.
214
Anna Nordqvist (Arizona State) 69 76 69.
215
Lizette Salas (Southern California) 73 74 68.
216
Krystle Caithness
(Georgia) 70 72 74, Azahara Munoz (Arizona State) 75 70 71, Candace Schepperle (Auburn) 73 66 77.
Other scores:

220
Amanda Blumenherst (Duke) 77 72 71, Belen Mozo (Southern California) 76 74 70. (jt 14th).
234
Ellie Givens (Denver) 77 76 81 (jt 47th).
Leading Teams

872
Arizona State.
880
Southern California
. 883
Virginia.
884
Georgia.
886
Alabama.
895
Oklahoma State.
908
Wake Forest.
913
Denver. 15 Teams took part.
Labels: US COLLEGES