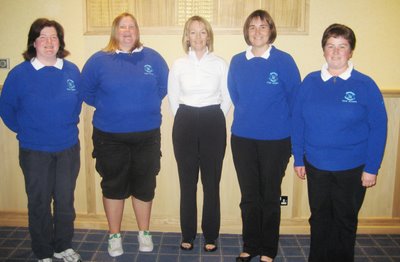 Murcar Links' winning team on Saturday (left to right): Shona Anderson, Donna Pocock, Susan Murray, Carol Wilson, Laura McLardy.
Murcar Links beat Kilmacolm to
reach Mail on Sunday last eight
Murcar Links are through to the last eight of the Mail on Sunday women's inter-club championship.
The North-east club team beat Kilmacolm 3-2 at Murcar Links in very windy conditions on Saturday.
The Briggs sisters, playing at No 1 and No 5 in the "batting order" for Kilmacolm, won their ties but wins by Carol Wilson, Shona Anderson and Susan Murray in the middle-order matches enabled Murcar Links to reach the last eight.
The quarter-finals will be played at Marriott Worsley Park, Manchester on Monday, September 22.
Saturday's details:
MURCAR LINKS 3, KILMACOLM 2
Laura McLardy lost to Eilidh Briggs 1 hole.
Carol Wilson bt Sally Foster 3 and 2.
Shona Anderson bt Marion Stewart 2 and 1.
Susan Murray bt Annabel Kane 7 and 5.
Donna Pocock lost to Megan Briggs 2 and 1.
Labels: Amateur Ladies