Queen, Kenny and Wilson beat cut in Denmark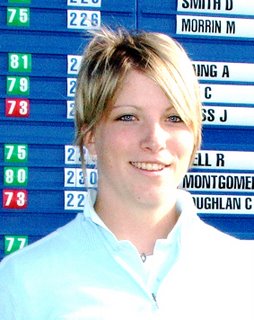 Melissa's eagle-eagle finish
for six-stroke lead
FROM THE LADIES EUROPEAN TOUR WEBSITE
Helsingør, Denmark - Saturday 6th September
) England's Melissa Reid eagled her last two holes to surge six shots clear of the field at the Nykredit Masters in Denmark today.
Reid,
pictured right by Cal Carson Golf Agency (all rights
reserved
), added a seven-under-par 66 to her opening 67 to finish the day on a total of 13-under-par after 36 holes at Simon's Golf Club near Helsingør.
Annika Sorenstam, who is making her last appearance in Europe as a pro golfer, shot 68 to share second with overnight leader Martina Eberl of Germany (73) on seven-under-par going into the final round.
Derbyshire-based Reid, who will be 21 later this month, carded three straight birdies from the sixth hole, then bogeyed the 14th before picking up five shots over her closing three holes.
After hitting a brilliant shot in to eight feet at the par-4 16th and sinking the birdie putt, Reid rolled in a 35-footer for eagle at the 513yd par-5 17th hole, before chipping in from the front of the green at the 507yd par-5 18th.
"Today I struck it a lot better," said first year tour player Reid, ranked 12th in Europe with season's earnings of 98,666.02 Euros.
"I've had a couple of good weeks' practise and I was just trying to keep it simple. I missed a couple of short five footers but overall I was pretty happy. The finish - birdie, eagle, eagle - you can't complain about that."
Reid will play with her long term heroine Sorenstam in the final round and she added: "It's so weird. I have pictures of her and stuff in my room still and I have her book right next to me on the bed, just on the side. It's weird that I'll be playing with her tomorrow but it would be pretty cool if I won the tournament and I played with her in the final round.
"That would really be a win in style."
Reid has finished second twice on the LET this year, at the ABN AMRO Ladies Open in the Netherlands and at the Ladies English Open. She also finished third at the MFS Women's Australian Open and feels she has the experience to pull off a victory.
"I can win. I am ready to win. I think I am overdue," she said. "I have played well enough this year to maybe have won a couple of times. I had a good chance in Holland and a great chance at the English. My main goal this year was to win so that is what I want to do."
Sorenstam, who has won three titles on the LPGA Tour this year, but none since May, said: "Today was better. I got off to a great start. I eagled my third hole and almost made a hole-in-one on my fifth. I played very, very well. I hit the last nine greens and I pretty much hit them all today. I hit a lot of edges and it could have been much lower but very happy to finish birdie, birdie.
"I've come from 10 behind so I know everything is possible. I just have to play some good golf and go from there."
Home favourite Iben Tinning and Sweden's Johanna Westerberg were a shot further back in a share of fourth on six-under-par, with Beth Allen of the United States, Spain's Tania Elosegui and England's Georgina Simpson in a tie for sixth on four-under-par.
Colin Farquharson writes:
Clare Queen
(The Carrick at Cameron House) dropped down out of the top five with a 78, nine shots worse than her first-day effort, to be in a tie for 32nd place on 147. Clare struggled after a double bogey 5 at the short second. She bogeyed the fifth to be out in three-over 38. The Scot had birdies at the 12th and 15th after the turn but bogeys at the 10th, 13th, 14th and 17th saw her come home in a disappointing 40.
Lynn Kenny
(Archerfield Links) is one shot ahead of Clare after another steady par round of 73 for a 146 tally which sees her in joint 24th place.
Rookie
Jenna Wilson
(Strathaven) made the cut with a couple of shots in hand. Only those who totalled 150 or better progress to the final round and Jenna has had a pair of 74s for 148.
Inverness-based New Zealander Liz McKinnon improved by 11 shots but a 73 for 157 was seven shots too many.
SECOND-ROUND TOTALS
Par 146 (2 x 73)
133
M Reid (Eng) 67 66.
139
A Sorenstam (Swe) 71 68, M Eberl (Ger) 66 73.
140
J Westerberg (Swe) 72 68, I Tinning (Den) 70 70.
142
B Allen (US) 72 70, T Elosegui (Spa) 72 70, G Simpson (Eng) 71 74.
143
N Reis (Swe) 71 72, M Rigon (Ita) 71 72, E Zackrisson (Swe) 69 74.
144
L Tereby (US) 74 70, T Plucksataporn (Thai) 73 71, B Brewerton (Wal) 72 72, E Giraud (Fra) 72 72, M Skarpnord (Nor) 72 72, F Bondad (Fra) 72 72, B Hauert (Ger) 71 73, M Nagl (Ger) 70 74, L Wahlin (Swe) 70 74.
Other scores:
145
Laura Davies 73 72, Carmen Alonso (Spa) 73 72
146
Lydia Hall (Wal) 75 71,
Lynn Kenny
(Sco) 73 73, Sofia Renell (Swe) 72 74, Anja Monke (Ger) 72 74, Veronica Zorzi (Ita) 70 76, Julie Tvede (Den) 75 71, Mianne Bagger (Den) 74 72, Kaisa Ruuttila (Fin) 73 73
147
Lisa Hall 78 69, Elisabeth Esterl (Ger) 73 74, Wendy Berger (Aus) 71 76, Km Juul (Den) 70 77,
Clare Queen
(Sco) 69 78, Laurette Maritz (Rsa) 77 70
148
Kate Combes (Aus) 74 74, Cassandra Kirkland (Fra) 75 73, Ellen Smets (Bel) 74 74, Stephanie Arricau (Fra) 74 74, Lynn Brooky (Nzl) 76 72, Karen Lunn (Aus) 74 74,
Jenna Wilson
(Sco) 74 74, Amanda Moltke-Leth (Den) 76 72, Rebecca Hudson 72 76, Stacy Lee Bregman (Rsa) 75 73
149
Jehanne Jail (Fra) 74 75, Jade Schaeffer (Fra) 74 75, Nathalie David-Mila (Fra) 75 74, Kirsty S Taylor 69 80, Lee-Anne Pace (Rsa) 78 71, Ludivine Kreutz (Fra) 75 74, Eva Steinberger (Aut) 79 70, Sarah Nicholson (Nzl) 74 75, Sophie Walker 73 76, Felicity Johnson 78 71, Anna Rawson (Aus) 74 75, Nikki Garrett (Aus) 68 81, Cecilie Lundgreen (Nor) 75 74
MISSED THE CUT
150 Anna Rossi (Ita) 77 73, Stefania Croce (Ita) 74 76, Federica Piovano (Ita) 75 75, Daisy Nielsen (Den) (am) 77 73, Dana Lacey (Aus) 73 77, Mette Buus (Den) 72 78, Marta Prieto (Spa) 76 74, Lara Tadiotto (Bel) 78 72
151 Charlotte Lorentzen (Den) 73 78, Rikke Rasmussen (Den) 74 77, Lisa Holm Sorensen (Den) 69 82, Vicky Thomas (Aus) 76 75, Isabella Maconi (Ita) 75 76, Hanna-Leena Salonen (Fin) 74 77, Vittoria Valvassori (Ita) 75 76, Kiran Matharu 75 76, Marie-Josee Rouleau (Can) 74 77
152 Elin Ohlsson (Swe) 77 75, Melodie Bourdy (Fra) 74 78, Patricia Beliard (Fra) 75 77, Malene Jorgensen (Den) 80 72, Zuzana Kamasova (Svk) 74 78, Rebecca Coakley (Ire) 76 76, Maria Verchenova (Rus) 78 74
153 Marina Arruti (Spa) 77 76, Monica Christiansen (Den) 77 76, Cherie Byrnes (Aus) 79 74, Anna Knutsson (Swe) 76 77
154 Trish Johnson 77 77, Ursula Wikstrom (Fin) 77 77, Anne Norman Hansen (Den) 78 76
155 Natascha Fink (Aut) 78 77, Joanne Morley 79 76
156 Olof Maria Jonsdottir (Ice) 76 80, Marjet Van Der Graaff (Ned) 81 75, Line Hansen (Den) 82 74, Ana Larraneta (Spa) 80 76
157 Jo Clingan 79 78, Elizabeth McKinnon (NZ) 84 73, Frederique Seeholzer (Swi) 77 80
159 Florence Luscher (Swi) 79 80, Julie Berton (Fra) 83 76, Bree Turnbull (Aus) 80 79
161 Bronwyn Mullins-Lane (Aus) 82 79
162 Kirsty J Fisher 82 80
165 Cecilie Lund (Den) 83 82
Retired: Sophie Sandolo (Ita), Simone Morgan, Lena Tornevall (Swe)
Disqualified: Henrietta (Brockway) Zuel
Labels: LADIES EUROPEAN TOUR