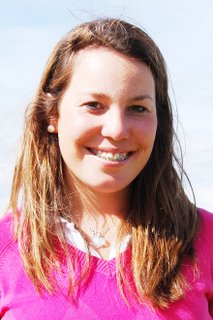 ROSEANNE TEES OFF HER US COLLEGE
SEASON WITH PAR-MATCHING 72
British stroke-play champion Roseanne Niven (University of California-Berkeley) matched the par of 72 in her seasonal debut on the US women's college circuit at the Ptarmigan Ram Fall Classic at Ptarmigan Country Club, Fort Collins in Colorado today.
Roseanne,
pictured right by Cal Carson Golf Agency (all rights
reserved),
a member of Crieff Golf Club, had birdies at the sixth, 12th, 14th and 15th but cancelled them out with bogeys at the fourth, seventh, eighth and 17th.
She was in joint 16th place in the field of 95 at the end of the first round.
Lee Lopez (Long Beach State) led with a four-under-par 68, one ahead of Niven's team-mate Pia Halbig.
Hannah Burke (Baylor) from Hertfordshire was in joint eighth place with a 71 which included birdies at the fourth, seventh, 12th and 14th but shots dropped at the 10th, 15th and 18th.
Another English-born competitor, Natasha Podmore from Appleton and a student at San Francisco University, had a 74 to be sharing 34th place.
Colorado (283) led by one shot from California-Berkeley and Louisville in the team event.
HOW THEY STAND
Par 72
68
Lee Lopez (Long Beach State).
69
Pia Halbig (California-Berkeley), Dominique Pytleweski (Colorado).
Other scores:

71
Hannah Burke (Baylor) (jt 8th).
72
Roseanne Niven
(California-Berkeley) (jt 16th).
74
Natasha Podmore (San Francisco) (jt 34th).
Labels: US COLLEGES