BANK CHARGES FORCE IMPORTANT CHANGE OF MIND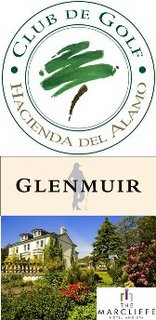 Festival entry fees can be paid on
arrival at Hacienda del Alamo
By COLIN FARQUHARSON
Tournament Controller,
2nd Hacienda del Alamo Women's Winter Golf Festival
We have decided to scrap the need to pay a downpayment of 100 Euros towards competitors' entry fees for the four-event, six-day programme from February 11 to 17.
We are reverting to the format which was in place for the inaugural Festival last February, i.e. competitors don't pay their competition entry fees until they get to the five-star Hacienda del Alamo Golf Resort.
Why the about-turn, you might ask? Well, it's all to do with Bank Charges. We had opened a Euros currency account in this country into which all the advance payments would have been paid.
But after the first cheque for 300 Euros had been deposited, we received a Bank Statement a couple of weeks later, showing only 290 Euros in the account!
When we inquired what had happened to the missing 10 Euros, we were informed that this was the standard deduction for "bank charges."
So, had we continued to bank all the advance entry fees, the Bank, which shall remain nameless, would have deducted a minimum of 10 Euros and a maximum of 60 Euros for EACH transaction, depending on the size of the deposit.
As all the entry fees, less a few admin costs, go out again in cash or other prizes, the Festival just could not afford to continue this arrangement.
You can, if you wish, still post the entry forms .
Labels: 2009 HDA FESTIVAL, HDA FESTIVAL