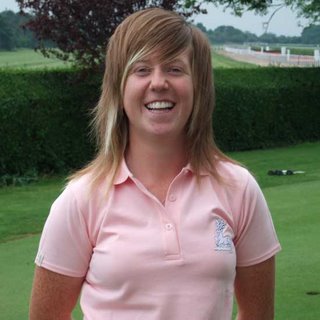 Hannah has to settle
for second place deep
in the heart of Texas
Baylor University, Texas student Hannah Burke from Hertfordshire, a member of the GB&I preliminary squad for the 2009 Vagliano Trophy match, finished second in the Jeannine McHaney/Audrey Moorehead Invitational women's college tournament over the Rawls course at Lubbock, Texas this week.
Hannah
(picture right by courtesy of English
Women's Golf Association
), 20-year-old Mid Herts Golf Club member, had rounds of 73, 74 and 73 over the par-73, 6525yd course for a one-over-par total of 220.
Swedish girl Sara Wikstrom (Arkansas-Little Rock) was the runaway winner by eight shots with a seven-under-par 212, made up of scores of 73, 68 and 71.
Missouri freshman Hannah Lovelock from Surry finished joint 32nd on 238 with scores of 82, 76 and 80.
Another newcomer on the US college circuit, Ami Storey (Kansas State) from Ponteland in the North-east of England has still to find her feet. She came joint 62nd with rounds of 81, 81 and 86 for 248.
Even with two players in the first three, Baylor University did not win the team title. The scored 913 - five shots more than winners Arkansas-Little Rock.
Par 219 (3 x 73) 6525yd.
212
Sara Wikstrom (Arkansas-Little Rock) 73 68 71.
220 Hannah Burke (Baylor) 73 74 73.
221 Lene Hafsten-Morch (Baylor) 73 73 75.
Selected scores:
238 Hannah Lovelock (Missouri) 82 76 80 (jt 32nd).
248 Ami Storey (Kansas State) 81 81 86 (jt 62nd).
908 Arkansas-Little Rock.
913 Baylor.
920 Colorado, Texas Tech.
922 Nebraska.
928 Missouri.
Selected score:
963 Kansas State (jt 11th).
Labels: US COLLEGES