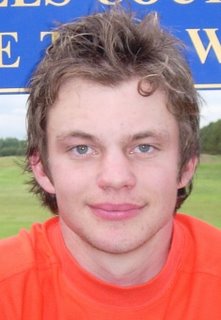 Neil Henderson finishes 11th in
Savannah Intercollegiate
Kirkwoodgolf.co.uk really appreciates the E-mails received from parents of students who are playing for American colleges.
GolfStat is a great service but it seldom gives you background information - did bad weather affect the scores, for instance.
And GolfStat does not give you scores from ALL the golfing colleges.
So thanks a lot to Linda, mother of
Neil Henderson
(Glen Golf Club, North Berwick) who won the Scottish schoolboys title and the Scottish junior champion of champions' boys title before going off to enrol at Old Dominion University.
Here's Linda's latest news:

Neil has been busy on the road again, this time with the Old Dominion University team at the Mizuno Savannah Intercollegiate hosted by Georgia Southern.
He had rounds of 74 and 74 to lie 17th individually on the first day, then had an even par round of 72 yesterday in gale force winds.
That was the fourth best round of the day and enabled him to finish 11th out of 75 wotj a tpta; pf 220, which he was really pleased about.
He said it was a tricky course with water on 14 holes and an island green like Sawgrass on 15th, which he says was fun!
Neil's team-mate, Tom Wilde from Berkshire, finished 17th with 223 and Old Dominion came sixth, with hosts Georgia Southern taking the team prize.
The Old Dominion University team are looking forward to a break for two weeks after a hectic schedule before they host a tournament in Kitty Hawk, North Carolina.
Editor's note: A third British player on the Old Dominion roster, Matthew Rendell, a junior year student from Reading, finished joint 6oth on 237.
Par 216 (3 x 72) 7,016yd
212
Anthony Aloi (Furman) 70 73 69, Logan Blondell (Georgia Southern) 67 72 73.
Selected scores:
220 Neil Henderson (Old Dominion) 74 74 72 (jt 11th).
223 Tom Wilde (Old Dominion) 74 74 75 (jt 17th).
237 Matthew Rendell (Old Dominion) 77 80 80.
Field of 75.
865 Georgia Southern.
866 Furman.
870 Kennesaw State.
Selected score:
897 Old Dominion (6th).
Field of 13 teams.
Labels: US COLLEGES