Espirito Santo Trophy report from Down Under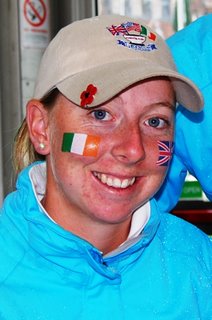 GOOD START BY SCOTS IN AUSTRALIA AFTER A 71
BY KRYSTLE CAITHNESS
FROM KAY SMART IN ADELAIDE
A team morale-boosting round one-under par 71 by Curtis Cup player Krystle Caithness has put Scotland in a strong position to challenge for a medal of some description in the Women's World Amateur Team Championship for the Espirito Santo Trophy at the end of the four-day, 72-hole tournament in Australia.
"I am pleased with my game - I played steadily,"said the 19-year-old St Regulus star who helped Scotland spearhead the challenge of the home countries. The Fifer's score was bettered only by the two Swedes who lead the field, Caroline Hedwall (67) and Anna Nordqvist (70).
Caithness
(pictured right by Cal Carson Golf Agency
), who plays on the US college circuit for the University of Georgia, carded a birdie 3 on the sixth on the Grange West Course where she knocked in a difficult downhill 30yd putt and collected another birdie on the ninth by rolling in a 10-footer.
Her only blemish came on the 15th where she found a bunker on the left of the green and failed to get up and down.
With Kylie Walker (Buchanan Castle) returning a 76, Scotland posted a first day total of 147. Roseanne Niven's 78 was discounted
.
That tally put the Scots in a tie for fourth place albeit some 10 strokes behind runaway leaders Sweden who are eight clear of nearest rivals Spain.
The Swedish team comprises Anna Nordqvist and Caroline Hedwall, winner and runner-up respectively of the British women's open amateur championship at North Berwick back in June.
The Swedes were able to discard their third team member Pernilla Lindberg's 72 - one of the best individual scores of the day!
Big-hitting Walker had a topsy-turvy round with bogeys at 13 and 18, a double at the 16th and a triple bogey 7 at the ninth where she got into all sorts of trouble.
But the St Rule Trophy winner made some amends with birdies at the first, where she almost holed out from a bunker, the 15th with a 30-footer and the 17th where she knocked in a 10-footer.
"It was really scrappy - my short game and bunker shots saved me- I hit 14 bunkers out there," said Walker.
Niven, the 19-year-old British stroke-play champion from Crieff and a student at the University of California-Berkeley, had eight bogeys in her round and said afterwards: "I didn't get my rhythym going and I made a few mistakes."
Scotland captain Fiona Norris was quite upbeat about her side's display. "It was a reasonable start. We were great on the front nine and were second after five holes. We dropped a few strokes on the back nine but we'll talk tonight.
"It was a gutsy performance and the girls' short game was superb. I am quite happy and am sure we will improve tomorrow."
Sweden's score of seven-under-par 137 ties the championship's lowest first round total - Canada in 2004 and Japan two years ago were also on that mark and their 10-stroke lead after 18 holes is the largest in championship history, surpassing the five-stroke margin of the United States in 1972 and 1982.
One of the surprises of the day was the comparatively poor showing by the United States, expected to be among the front runners. But, with a team made up of three of the victorious Curtis Cup team at the Old Course, St Andrews back in June - Tiffany Joh, Irish-born Alison Walshe and Amanda Blumenherst, ranked No 1 on the US female college circuit - could do no better than a 152 first-round total, which leaves them with an awful lot of ground to make up.
Joh had a 74, Walshe a 78 and Blumenherst a 79.
Par 144 (2 x 72)
145 Spain.
146 Japan.
147
Canada, New Zealand,
Scotland
(K Caithness 71, K Walker 76. Discounted R Niven 78), South Africa.
148 Germany, France.
149
Austria, Brazil, Australia, Denmark,
England
(J Ewart 73, R Jennings 76. Discounted E Bennett 79),
Ireland
(D McVeigh 74, T Delaney 75. Discounted N Kitching 82).
150 Netherlands, Korea.
151 Italy, Colombia, Taipei.
152 Mexico, Chile, United States (T Joh 74, A Walshe 78, A Blumenherst 79).
153 Russia.
154 Latvia, Norway, Argentina.
155
Wales (
B Loucks 75, R Wyn Thomas 80. Discounted S Hassan 80), Czech Republic, Puerto Rico, Portugal.
156 Philippines, China.
158 Malaysia.
159 Guatemala, Cook Islands, Singapore.
160 Finland.
161 Thailand.
162 Turkey, Belgium.
163 Slovakia.
165 Hong-Kong.
170 Greece.
171 Bermuda.
185 Fiji.
Labels: Amateur Ladies