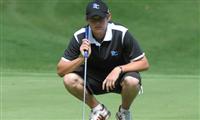 Grant Carnie helps Brevard College
win for second time this season
Ellon's Grant Carnie, pictured right, finished third and helped Brevard College, North Carolina golf team to achieve a second team win of the 2008-2009 US college golf season in the SMC Invitational tournament at Links O'Tryon, Campobello, South Carolina this week.
Carnie finished on level par 144 by matching the par of 72 twice over the 6,877yd course. He finished three shots behind the winner.
Team-mates Myles Johnston from Bo'ness, Craig Galloway from West Lothian and Tom Rennie from Aberdeen all made it into the final top 30 in a field of 60 players.
Senior year student Myles scored 82 and 68 to finished 10th equal of 150. Not only was that 68 the tournament low, it was also a record low score by any player in the history of the Brevard College golf programme. Well don, Myles!
Craig Galloway, also in his final year at Brevard College, scored 74 and 78 for 152 and a share of 16th place.
Freshman student Tom Rennie from Aberdeen and a member at Deeside Golf Club finished 27th with rounds of 77 and 79 for 156.
Brevard College won the team event by 15 shots from a field of 11 college squads.
LEADING INDIVIDUALS
Par 144 (2 x 72) 6877yd
141
Daniel Hardy (Spartanburgh Methodist) 72 69.
143
Dustin Philyaw (Johnston) 72 71.
144 Grant Carnie (Brevard College) 73 72.
Selected scores:
150 Myles Johnston (Brevard College) 82 68 (jt 10th).
152 Craig Galloway (Brevard College) 74 78 (jt 16th).
156 Tom Rennie (Brevard College) 77 79 (27th).
60 players took part.
582 Brevard College.
597 Spartanburgh Methodist.
11 teams took part.
Labels: US COLLEGES