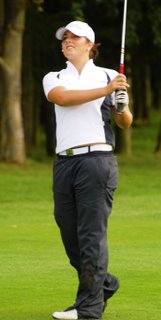 Kelsey MacDonald wins SLGA
girls' order of merit
title by big margin
Scottish Under-21 girls champion Kelsey MacDonald has won the Scottish Ladies Golfing Association girls' order of Merit title for 2008 by just about as big a margin as Kylie Walker (Buchanan Castle) won the women's merit table.
Kelsey lost to Carly Booth in the Scottish Under-18 girls' match-play championship at Alyth, the week before her great win in the Under-21 stroke-play championship at Powfoot.
She also won the Scottish schoolgirls' title for the first time at Inchmarlo Golf Centre, Banchory in June.
Kelsey's family home could hardly be closer to the first tee of the Nairn Dunbar golf course. Her ambition is to play for Great Britain & Ireland in the 2012 Curtis Cup match which will be staged at Nairn Golf Club.
She is a full Scotland international team player and is pictured above, by Cal Carson Golf Agency, in action during this year's women's home internationals at Wrexham.
Kelsey, who turned 18 in early October, is now a student at Stirling University. She has a twin brother.
Rachael Watton (Mortonhall) was runner-up in the SLGA girls' order of merit and third place went to Lesley Atkins (Minto), this year's Scottish Under-14 girls' champion.
SLGA GIRLS' ORDER OF MERIT FINAL POINTS TOTALS
1 K MacDonald (Nairn Dunbar) 2725
2 R Watton (Mortonhall) 1500
3 L Atkins (Minto) 1475
4 J Meldrum (Dullatur) 1410
5 E Briggs (Kilmacolm) 1325
6 G Scanlan (Hamilton) 1260
7 S Vass (Tain) 1080
8 S Leslie (Murcar Links) 1030
9 R McQueen (Troon Ladies) 970
9 C Booth (Comrie) 970
11 J Graham (Southerness) 930
12 R Wilson (Monifieth) 900
13 E Muirhead (Pitlochry) 780
14 A Niven (Crieff) 755
15 A McKechin (Elderslie) 550
16 G Monteith (Portpatrick Dunskey) 510
17 G MacDonald (Craigielaw) 490
18 C Easton (Dalmahoy) 410
19 A Smith (Monifieth) 350
20 L McGillivray (Banchory) 310
21 M Johnstone (Northern) 300
22 J Vass (Tain) 225
23 G Dryburgh 220
23 G Simpson 220
23 S Alexander 220
26 L Allan 210
27 F Fullerton 175
28 H McCook 173
28 E MacKay 173
30 R Polson 160
31 T Mactaggart 150
31 K Scott 150
31 A Bain 150
34 K McIntosh 123
35 N Taylor 100
35 M McKay 100
37 L MacGregor 60
38 N Qayum 50
38 A Summers 50
38 L Stevenson 50
38 I Craigie 50
38 S Cameron 50
Labels: Girls