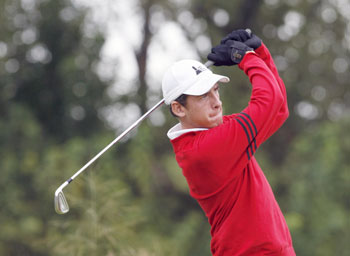 Nicky Maddison, a winner twice over already on the American college golf circuit.
Newcastle's Nicky Maddison makes
it two wins in a row in Kansas
The signing of Nicky Maddison from Newcastle for the start of the 2008-2009 American college golf season must be the best bit of "business" done by the Hutchinson College, Kansas talent scout in a long while.
Nicky has just won his second straight tournament this week and Hutchinson College have won three team titles in a row in the Jayhawk Conference tournament circuit.
In the latest event, the third in the series, played at The Highlands course, Hutchinson, in two days of simply awful weather - bucketing rain and wind on the first day, drier but windier (20 to 25mph wind) on the second day - Nicky had rounds out one-under-par 71 followed by an 81 for a total of 152.
Given the terrible weather conditions, Nicky's first-round was a great score and formed the basis for his three-stroke win from Miles Christensen (Johnson County) who had rounds of 79 and 76 for 155.
Dale Middleton from Coventry, Hutchinson College's other freshman recruit from England, finished 10th in a field of 50 wiht scores of 83 and 85 for 168.
Hutchinson (653) won the team title from Dodge City (662) and Johnson County (663). Ten college teams took part.
Par 144 (2 x 72) 6486yd
152 Nicky Maddison (Hutchinson) 71 81.
155 Miles Christensen (Johnson County) 79 76.
159 Christopher Grause (Allen County) 79 80.
160 Anders Engell (Dodge City) 73 87.
653 Hutchinson. 662 Dodge City. 663 Johnston County.
+The city of Hutchinson, Kansas was founded in 1871 by an Indian agent by the name of C C Hutchinson. It now has a population of 40,000 and covers an area of 21 square miles. It is in the central south of the state of Kansas, 40 miles north of Wichita and is the county seat of Reno County.
Labels: US COLLEGES