Fifer is joint third in Espirito Santo Trophy individual standings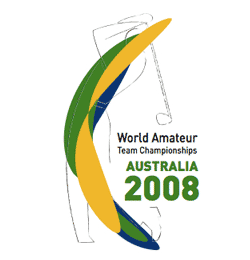 Krystle sparkles again and Scots
climb to joint 12th position
Krystle Caithness had another great day at the women's world amateur team championship for the Espirito Santo Trophy at the Grange Golf Club, Adelaide in Australia.
After matching her opening round of two-under-par 71, Krystle is lying joint third in the individual standings.
With Kylie Walker contributing a 75, it was a better day for Scotland with a Day 3 team score of 146. They have climbed to joint 12th position - one behind England - but 25 shots behind the runaway leaders, Sweden, who are 11 shots ahead of next-best Spain with one round to go.
A top-10 finish is now the realistic target for Scotland, which would still be a creditable effort on the world amateur stage.
Par 436
422 SWEDEN (C Hedwall 73, A Nordqvist 74, P Lindberg 76).
433 SPAIN (A Munoz 74, B Mozo 76, C Ciganda 78).
436 JAPAN.
438 UNITED STATES (A Walshe 69, A Blumenherst 73, T Joh 73).
440 NETHERLANDS (C Boeljon 70, D-C Schreefel 78, M Nivard 79), SOUTH AFRIA.
442 CANADA.
443 DENMARK, GERMANY.
446 COLOMBIA,
ENGLAND (J Ewart 75, E Bennett 75, R Jennings 79).
447 AUSTRALIA,
SCOTLAND (K Caithness 71, K Walker 75, R Niven 83).
448 SWITZERLAND.
449 AUSTRIA.
450 FRANCE.
451 NEW ZEALAND.
452 SOUTH KOREA.
453
WALES (S Hassan 74, B Loucks 77, R Wyn Thomas 78)
, ARGENTINA.
456 ITALY,
IRELAND (D McVeigh 76, T Delaney 77, N Kitching 81
), BRAZIL, BELGIUM, THAILAND.
459 FINLAND.
460 MEXICO.
461 CHINESE TAIPEI, LATVIA.
462 PUERTO RICO, CZECH REPUBLIC
467 CHILE.
470 CHINA.
471 MALAYSIA, PORTUGAL.
474 GUATEMALA.
475 HONG KONG
476 ICELAND, RUSSIA.
483 SLOVAKIA.
485 SINGAPORE.
487 BERMUDA.
488 TURKEY.
490 COOK ISLANDS.
508 GREECE.
550 FIJI
SCOTS' INDIVIDUAL ROUND THREE SCORECARDS
Par 73
KRYSTLE CAITHNESS 71 (37-34).
Bogeys: 3 (at first, 13th and 18th).
Bogeys: 3 (at seventh, 13th and 15th).
ROSEANNE NIVEN 83 (39-44).
Triple bogeys: 1 (at 18th).
Double bogeys: 3 (at fifth, 12th and 16th).
Bogyeys: 2 (at 11th and 17th).
OVERALL INDIVIDUAL STANDINGS
Par 218 (2 x 73, 1 x 72)
1-

210
Caroline Hedwall (Swe) 67 70 73.
2-

212
Anna Nordqvist (Swe) 70 68 74.
3-

215
Krystle Caithness (Sco) 71 73 71, Christel Boeljon (Net) 77 68 70.
KAY SMART'S SPECIAL REPORT FROM ADELAIDE WILL BE WITH US SHORTLY.
IN THE MEANTIME, HERE'S A PRESS RELEASE FROM THE ORGANISERS, THE INTERNATIONAL GOLF FEDERATION:
SWEDEN INCREASES LEAD TO 11 STROKES AFTER THIRD ROUND

Adelaide, Australia (10 October) – Steadfast Sweden increased its lead to 11 strokes over Spain after the third round of the 2008 Women's World Amateur Team Championship at The Grange Golf Club's East and West Courses.

Caroline Hedwall shot an even-par 73 and Anna Nordqvist posted a 1-over-par 74 on the East course as Sweden picked up three strokes on second-place Spain. They finished 54 holes at 14-under-par 422, tying a championship record for the second-largest third-round lead.

"Normally in golf, the third day is moving day but it was more like a waiting day," Sweden's captain Walter Danewid said. "Spain was closest to us but not much was happening. We seemed like we were waiting."

The Swedes are vying for their second title and the chance to become the first start-to-finish winners since the USA in 1990. This trio of Swedish players won the European Team Championships in 2008.

"It is a big lead but there is still a lot of golf to be played," Danewid said. "We will do our thing and we will stay focused."

Spain could not take advantage of Sweden's 1-over-par third-round score and stands at 3-under-par 433.

"Golf is something special," Spanish captain Macarena Campomanes said of overcoming the large lead of Sweden. "We will try. You never know in golf."

Japan jumped two places to third place with a third-round 3-under-par 143.

The USA made the day's biggest move with a 4-under-par 142 to advance four places to fourth with Alison Walshe notching a 4-under-par 69, the best round of the day. Teammates Amanda Blumenherst and Tiffany Joh both shot even-par 73.

"If all three of us play really well, we should be under par," Walshe said of her team's chances in the fourth round. "It's the kind of a thing where Sweden might be too far away. But, you never know.

Also in medal contention were Netherlands and defending champions South Africa, who are tied for fifth place. Canada is seventh; Denmark and Germany are tied for eighth and Colombia and England are tied for 10th.

The host country, Australia, is tied for 12th.

In the Women's World Amateur, each team, which has two or three players, plays 18 holes of stroke play for four days. In each round, the total of the two lowest scores constitutes the team score for the round. The four-day (72-hole total is the team's score for the championship.

The winning team receives custody of the Espirito Santo Trophy for the ensuing two years.
For round four, the teams at the top half of the leaderboard will play the West course. The bottom half teams will play the East.
PRESS RELEASE ISSUED BY ENGLISH WOMEN'S GOLF ASSOCIATION

England's medal hopes suffered a setback on the third day of the 2008 Women's World Amateur Team Championship at The Grange Golf Club in Adelaide, Australia.
The team score was four-over par for the day and England dropped back two places to 10th position. They are 10 shots behind Japan, who returned three-under for the day and moved into the bronze medal position.
However, England will be pulling out all the stops in the final round of the championship. Team captain Julie Otto said: "The team are disappointed with their position after the third round of the championship.
"To be 10 strokes off the bronze medal position with one round to play is certainly challenging. But, golf is a game in which amazing things can happen and if all our putts drop who knows what we can achieve."
England's counting scores – the best two from three - came from Liz Bennett (Brokenhurst Manor) and Jodi Ewart (Catterick) who both returned two-over par 75.
Liz played consistent golf over the East course while Jodi again finished strongly. The English strokeplay champion was five over after 12 holes but had three birdies as she completed her round.
England's third team member, Rachel Jennings (Izaak Walton), was level par over the outward half but fell away on the back nine and her 79 was discounted.
Sweden continue to dominate in the competition for the Espirito Santo Trophy. They are 11 strokes clear of Spain who returned to the field after returning a third day team score of four-over par. They continue to hold the silver medal position but are only three shots ahead of Japan.
Labels: Amateur Ladies