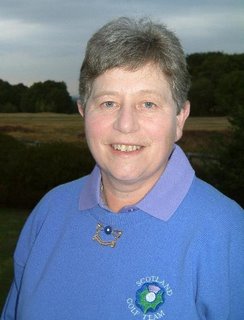 New club match-play
foursomes event added
to SLGA calendar
The Scottish foursomes tournament has not been well supported over the last few years, and was cancelled last summer due to lack of entries.
Dr Lynne Terry (Cruden Bay),
pictured right by Cal Carson
Golf Agency
, the SLGA treasurer, came up with a suggestion for an inter-club match-play foursomes handicap tournament which could be run over the summer with semi-finals and final on the same day as the Scottish stroke-play foursomes tournament (August 30 at Forfar Golf Club) with scratch and handicap prizes.
Each club can enter a team of two or three players to represent it during the season.
The total combined handicaps of the team must not exceed 60. Any two of the team can represent the club in each round.
Each match will be played on the basis of full difference of half the combined handicaps (on the day) of the two players representing the club.
The SLGA will make the draw for each round. The rounds will be based on geographical locations of the clubs to minimise travel as far as possible.
The 18-hole stroke-play tournament on the finals day will prioritise the 16 lowest combined handicaps, along with additional entries from the clubs involved in the semi-finals and the clubs that entered the match play.
If the event is not fully subscribed then clubs who did not enter the match play can enter, and if it is over-subscribed then higher handicap teams will be eliminated first.
Entry forms went out to the clubs with last week's mailing from the SLGA.
Entries have to be in by March 9, so no time for delay.
Labels: Amateur Ladies