Continuing search for record club champion sequence
Eileen Manson (below) and Laura McLardy (right)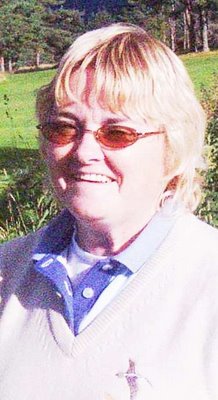 Eileen Manson won Thurso ladies' title 24 years in a
row and again in 2005, 2007 and 2008
By COLIN FARQUHARSON
Waiting for verification from Turriff and Oldmeldrum Golf Clubs about the club championship records of Pat Shepherd and Janice Florence respectively.
In the meantime, former Northern Counties LGA captain Mairi Orr has drawn my attention to the claims of Eileen Manson.
Eileen, herself, has E-mailed me to correct the original figures we had on this website. She says:
"I have won at Thurso 24 years consecutively, not 23, plus 2005, 2007 & 2008."
Eileen was Reay Golf Club ladies champion 16 years in a row from 1988 to 2003.
Laura McLardy, who came to the fore as a Duff House Royal and Northern Counties team member before she moved to Aberdeen, joined Murcar Links and switched to Aberdeenshire, has a pretty formidable record at the Banff club where she is still a member.
Laura, who is the Aberdeenshire county treasurer, tells me:
"Todate I've managed 16 consecutive (ladies title) wins at Duff House Royal and 18 in total. First won it in 1990, aged 13 (now we can work out how old Laura is!).
"Won it again in 1991 but then was pipped by Jackie Duncan in 1992. Since then I have won the DHR ladies title from 1993 to 2008. The Duff House Royal title has always been stroke-play and last year was the cloest I've experienced. There was only one shot in it, Ashley Clark being the runner-up.
"Currently it's the best three rounds from four. The format has changed a couple of times over the years. Have only managed one title at Murcar Links thus far."
Laura also adds the following information:
"I'm pretty sure that Pat Shepherd won the Turriff title on 30 consecutive occasions before being beaten in the late 1980s (or early 1990s) by Janice Florence. Pat was in the Guinnes Book of Records for her feat.
"Janice Florence, in turn, won 29 consecutive titles at Oldmeldrum, before Donna Pocock ended her run. I think both have won further titles.
"Not sure how many times people like Linda Smith at Buckpool or Meg Sivewright at Keith will have won their ladies club titles. Rose Anderson has a lot of titles at Huntly but broke an arm around 10 years ago and had to withdraw that year, so she won't have as many consecutive titles was would otherwise have been the case"
Labels: Amateur Ladies