Caithness & Sutherland women's inter-club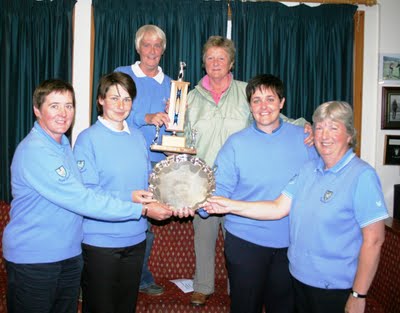 Brora's Beatrice Trophy-winning Marlene Bokas and Lesley Beaney are in the back row behind the Royal Dornoch winners of the scratch trophy, Alison BArtlett, Claire Riddell, Pam Mackay and Liz Coghill (image by Robin Wilson
).
Royal Dornoch break Thurso's
grip on the scratch Ord Salver
By ROBIN WILSON
Thurso Golf Club's two-year hold on the Ord Salver, the scratch trophy in the Caithness & Sutherland women's inter-club competition, was broken at Golspie Golf Club at the weekend by a strong Royal Dornoch team of single-figure handicappers who coped best with the very wet and windy conditions.
Royal Dornoch's scratch success, there sixth since the inauguration of the competition in 1981, arrived courtesy of their strongest team, that was made up of two Northern Counties team members, Pam Mackay and Alison Bartlett, backed up by Claire Riddell and Lady Captain, Elizabeth Coghill. Missing only was club and North champion, Cara Gruber.
Dornoch's eventual winning total of 247 (best three scores from four) was spearheaded by Riddell, an 80, followed by Mackay's 81 and Coghill's 86. Bartlett had a poor day in the foul weather and her 93 was the discarded score.
The Royal Dornoch team were 15 shots ahead of Brora's scratch total of 262 but Brora ended up with the Beatrice Trophy for their net total of 229 – Marlene Bokas (11) 75, Lesley Beaney (8) 76 and Elizabeth Grant (14) 78. The net card of 83, off 13, from fourth team member Pat Ashe was discarded.
Brora's handicap success allowed the scratch holders, Thurso, to finish as scratch runners up.
The Caithness-based team of Eileen Manson, Nadia Green, Anne Simmonite and Angela Williamson had cards of 84, 88, 106 and 106 respectively for a 54-hole gross total of 278. Hosting club Golspie were placed second in the handicap returns. Noelle Mackay (18) 78, Sheila Robertson (12) 79 and Jennifer Stewart (19) 81 were their counting scores and Anne Macrae (10) 84 the discarded score for a total of 238.
Such was the inclement weather, the CSS was non-counting and reductions only applied. Only a member of Royal Dornoch's number three team, Margaret Ross, and from the the host club's second team, Caroline Logie came anywhere near to matching their handicaps both with net 73s.
The event next year for its 13th anniversary will be staged at Wick Golf Club
Labels: Amateur Ladies