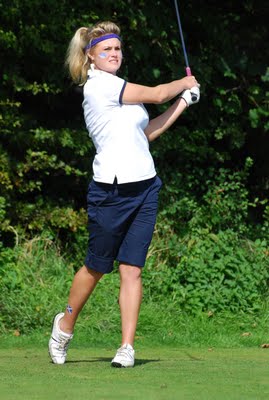 Carly Booth: "In terms of golfing maturity, she is in her mid-20s," says SLGA national coach Kevin Craggs.
Management companies falling over themselves
to sign up rookie professional Carly Booth
FROM THE SCOTSMAN WEBSITE
By Martin Dempster
The phone has been red hot at the Booth family farm in Perthshire this week as the management companies battle it out for the signature of a golfer who's been tipped for the top from the day she first picked up a club, and, what's more, is a marketing man's dream.
Great things have been expected of Carly Booth since becoming the youngest ladies' club champion in Britain at the age of 11, but the race for her signature has just moved up a gear after she turned professional on the back of her success earlier this week in securing a card for the Ladies' European Tour.
"We've had loads of phone calls over the past few days," said her dad, Wally, who has been fielding the enquiries as Booth struggled through the bad weather to make her way home from the qualifying school at La Manga.
The interest in Booth's future is no surprise. Since that ladies' title triumph at Dunblane New, her career has been one highlight after another. At 12, she played with Sandy Lyle in the British Masters Pro-Am and at 14 she appeared in her first professional event, the Scottish Open, and finished 13th.
She was rated the No 1 junior in Europe after winning the European Junior Masters in 2007, the same year she lifted the Scottish Under-18 and Under-21 titles. In 2008, she became the youngest player to represent Great Britain & Ireland in the 76-year history of the Curtis Cup, facing the Americans in the 35th staging of that match at St Andrews.
Now she's made people sit up and take notice yet again after becoming the youngest-ever Scot to qualify for the Ladies European Tour.
"Although Carly is still young, she has probably gained more experience between 11 and 17 than some people do in a lifetime," said Kevin Craggs, who has worked with her over the past year in his role as the national coach for the Scottish Ladies' Golfing Association.
"Indeed, in terms of golfing maturity she he is actually in her mid-20s."
It is believed that Ping, the company that has supplied Lee Westwood's clubs throughout his career, are keen to add Booth to its stable, but her preferred choice will surely be a deal with Nike, having played with its clubs since she became part of the 'Team Faldo' set up five years ago.
According to one agent, who works for a worldwide management company, there should be no shortage of interest in the Scot, especially as her success at the qualifying school was by no means a flash in the pan.
"I think Carly is a breath of fresh air, to be honest," she said. "In a way, she's non-conventional and I like that fact. She's built up good experience and did well in the Ladies Scottish Open a couple of years back.
"She has a bright future and I'd certainly say she is very marketable. Yes, money is quite tight at the moment, but I'm sure there will be someone out there willing to back her and, what's more, they'll get something back from her as well."
Craggs, one of the top coaches in Britain, reckons the switch to the professional game is exactly what Booth, who has been constantly compared to Michelle Wie, was needing and says he expects her to win early in her new career.
"People forget that Carly has been carrying expectations since she was 11 and I think there ws a spell when she was losing her appetite for the game. She wasn't being stretched," he added. "She needs to be stretched all the time and getting this card will certainly do that. She will embrace the life of a golf professional and I will make a prediction now that she will win very soon."
Before embarking fully on this exciting new chapter in her life, Booth, who will need to be accompanied on Tour by a guardian until she celebrates her 18th birthday next June, has a golf scholarship to complete at Glenalmond School. She started there after returning from America, where a stay at David Leadbetter's Academy in Florida was followed by a spell at a school in Arizona.
"Staying at home again was one of the best decisions I've made," she said. "It has enabled me to have a more balanced routine and, while I wouldn't have minded too much if I hadn't got my card this year as I really went to the Tour school for the experience, I'm delighted as I've got the change that I think I need at this stage in my career."
Wally, who played in the same schoolboy football team in Aberdeen as Denis Law before becoming a British and Commonwealth Games wrestling champion, is delighted that Carly has joined her brother, Wallace, in the professional ranks, having gone to the trouble of creating a course exclusively for them on the family farm near Comrie when they first showed a keen interest in golf.
"We're really happy for her and I'm hoping all these phone calls will lead to Carly getting some decent sponsors," he said, revealing the family had just forked out a considerable sum of money to pay for Wallace to try his luck at the Asian Tour qualifying school early in the New Year.
According to Craggs, companies would be crazy to miss out on the chance of supporting someone he believes will soon be backing up the likes of Catriona Matthew, Martin Laird and Richie Ramsay in trying to repair Scotland's battered reputation.
"Carly would be a huge asset to anyone looking to market a brand," he commented. "She's not only a great golfer but is very personable, too, and if a golf clothing company, for example, is looking for someone then she'd be just perfect."
Labels: Pro Ladies