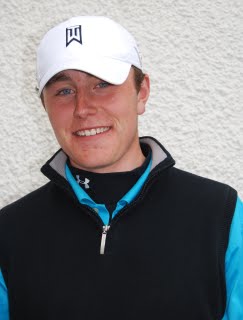 CHRIS ROBB OFF TO UNIVERSITY OF

TENNESSEE-CHATTANOOGA
EARLY IN JANUARY
By COLIN FARQUHARSON
Scottish boys championship semi-finalist Chris Robb, a member at Inchmarlo Golf Centre, Banchory, has been awarded a four-year golf scholarship by the University of Tennessee-Chattanooga.
He will leave for America just before his 19th birthday on January 7.
Robb,
pictured right by Cal Carson Golf Agency
, made up his mind to go to a US college a year or so ago but was prepared to wait until he got an offer from one of the bigger set-ups.
"I visited the universities at Missouri , Michigan State and Chattanooga , before and after I was out in Houston in the autumn with the Grampian Houston Junior Trip," said Chris, who has been a full-time amateur golfer since he left Banchory Academy at the end of his fifth year.
"I had been in touch with the Chattanooga head golf coach before and the visit there made up my mind that was where I wanted to go. The head women's golf coach at the university is Colette Murray, who comes from Dumfries so we can chat about 'back home'."
Robb, who is very long off the tee - he drove the green, full carry, at a par-4 hole in excess of 300yd at a recent North-east Alliance competition at waterlogged Portlethen, won the Scottish schoolboys title' over his home course in 2008 and was a winner on the Scottish Golf Union Junior Tour this year.
He was a little bit unlucky to lose by one hole to champion-to-be David Law in the semi-final of the Scottish boys' match-play championship at Balgownie in April this year. Law and Robb were all square playing the 18th with Robb on the green in two and Law some way off the putting surface after his second shot.
Law holed his pitch for a birdie 3 which Robb could not match.
"Playing for the Scotland in the European boys' team championship and the boys' home internationals were probably the highlights of the 2009 season for me but in many ways it was a poor season for me. My handicap was +1.5 at the start of the year and it is now +1.7, so it hasn't progress as much as I would have liked it to," said Robb who will not be eligible to play for Tennessee-Chattanooga on the US college golf circuit until next autumn.
He is the latest bright young Scottish golf prospect to be snapped up by an American college.
Those already in the States include James Byrne (Arizona State University), Paul Ferrier (Charlotte University), Peter Latimer (Guilford College), Neil Henderson (Old Dominion University), David McGregor & Gavin Wilson (Post University), Thomas Rennie (Brevard College), Mark Thomson (Ohio Valley University), Jordan McColl (New Mexico Junior College), Fraser McKenna (Southeastern Louisiana University), Grant Carnie & Kyle Godsman (South Carolina-Aiken University).
Scottish girls at US universities include Sally Watson (Stanford University), Rebecca Watson (Tennessee University), Roseanne Niven (California-Berkeley University), Ashton Ingram (Belmont Abbey College) and Linzi Allan (Newman University).
+Apologies to all those who have been missed off these lists. There are many more Scots, particularly young men, at US colleges.
LATER NEWS
Scott Goddard, the man in charge of the golf programme at Davis & Elkins College, West Virginia, reports that yet another Scot has been recruited.
Christopher Young (Cardross) will fly out to enrol at Davis & Elkins College in late January. Scots already there included: Colin Sutherland from Crail, David Shields from Glasgow, Robe3rt McCleneghan from Glasgow and Alasdair Forsythe from Caldwell.
Labels: US COLLEGES