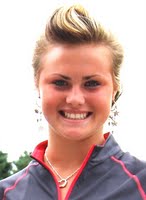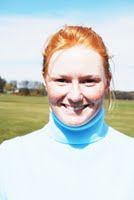 Ladies European Tour pro careers
beckon
for Kylie Walker (jt 8th)
and Carly Booth (14th)
FROM THE LADIES EUROPEAN TOUR WEBSITE
with some additonal words by Colin Farquharson
German amateur Caroline Masson outplayed 165 other entrants to lead the players who earned full playing privileges at the Ladies European Tour's Final Qualifying School at La Manga Club in Murcia in south-east Spain today.
Playing as amateurs, 2010 Curtis Cup squad members Kylie Walker (Buchanan Castle), pictured left above, and 17-year-old Carly Booth (Comrie), pictured right above, both sailed through with flying colours in the top 30 who earn full playing rights for 2010.
Carly, who needs special dispensation to play the Tour before her 18th birthday next June and, under the LET rules, will need to be accompanied by a guardian at tournaments until then, has announced she is turning pro almost with immediate effect. Kylie has followed suit.
Long-hitting Kylie, who first came to the fore as winner of the Scottish schoolgirls title in her teens, finished joint eighth on six-under-par 286, clinching her place with a splendid third-round, five-under-par 68 over the South Course.
Carly finished with her worst round of the four, a one-over-par 74, but had already paved the way for a 14th place finish on three-under 289.
A bit like Michele Wie who is a pro golfer and a Stanford University student at the same time, Carly will remain a pupil at Glenalmond School, Perthshire, where she has a golf scholarship until the end of the 2009-2010 school year.
"I'm really pleased," she said. "I will turn professional as soon as today is done. I'm still at school until June and, up until then, I'll travel with my mum, although I'll probably not play in too many tournaments. I didn't play my best today but was solid enough to post two decent scores."
Walker, who played unsuccessfully in the LET Q School 12 months ago and also competed in the LPGA Tour and Futures Tour qualifying events, admitted that the interruptions for bad weather at La Manga and the tough qualifying process - seven competitive rounds in all - took its toll.
"I played really well in the morning third round and made a lot of birdies," she said. "But I think I became a little tired and frustrated in the afternoon. Still, I managed to shoot level par and now I'm looking forward to working out my schedule for 2010."
Clare Queen (The Carrick on Loch Lomond) retained her LET playing status but only in Category 10a, which puts her down the pecking order for entry to tournaments in 2010. Clare survived the vital third-round cut with 73. Had she been able to produce another 73 in the fourth round, she might just have made the top 30. Instead, Clare sagged to an 80 to finish joint 51st of the 52 fourth-round qualifiers for a nine-over-par total of 301.
Caroline Masson, a 20-year-old from the town of Gladbeck signed for a closing round of 66, seven under par, to finish the four-round Final Qualifying School at 14-under-par, 278. She survived seven gruelling rounds, having graduated from the pre-qualifying stage played over the previous three days.
Masson had recorded a third round of 70 on the South Course earlier in the day, but made an explosive start from the second hole playing in a shotgun format for the fourth and final round.
She birdied her first three holes, picked up another shot at the sixth and continued the fine run with further birdies at the 11th and 14th. She three-putted the 16th, which was her only blemish on the card, but recovered with an impressive eagle at the par-five 18th hole, when she reached the green in two.
"I played pretty well from stage one and just made some more putts today so that's why I scored a little better. It was solid," said Masson, who attended Oklahoma State University for a year before leaving to concentrate on golf full-time.
"It was difficult because I didn't know what to expect. I was thinking that if I played well, like I had been playing all year, I could make the top 30; so that was my goal. I was just playing steady and kept cool and relaxed and it worked out."
Masson earned her full card at the first time of asking and will now turn professional. Beaming with confidence, she said: "I just expect to play well and make some good finishes and maybe win a tournament. It is my goal to win a tournament but I don't really know what to expect."


Rising Australian starlet Kristie Smith, 21, from Perth, shot a final round of 70 to finish at 12 under in second place.


The Florida-based professional revealed that she had taken extra confidence from the fact that her father Wayne had won the European Tour School at La Manga Club in 1986.
"My dad actually won Q-School here back in '86 and told me a little bit about the course, so I had some good feelings coming in here," said Smith, who also plays on the Duramed Futures Tour.
"Today was a good day. The whole two weeks that I was here were really good; I played solid for two weeks straight. I put the scores on the board and that's what I felt I needed to do."
Finishing in third place was María José Uribe of Colombia, who likes to be known as "Mariajo". The 19-year-old from the city of Bucaramanga carded a final round of 72 for a total of 11 under par, becoming the first active Colombian player on the Ladies European Tour. The LET has one other Colombian member: Maria Cecilia Saenz, who holds a Non-Playing Status.
Having been given a special dispensation to compete at the LET's Qualifying School, Curtis Cup amateur Carly Booth finished in 14th place and earned her full card. She stated that she will turn professional, becoming the Ladies European Tour's youngest current member at the age of 17 years and six months.


She said: "I will turn pro as soon as this is pretty much done with. I probably didn't play my best today but I still played solid enough to get a good score in. I'm pleased."
Two English-born amateurs, Hannah Ralph (Cowdray Park) and Kym Larratt (Kibworth), made the grap in 11th and joint 23rd place respectively and like Kylie Walker and Carly Booth will probably be announcing their switch to the pro ranks very soon.
Hannah, who is 21, totalled five-under-par 292, steadying the ship after a second-round 75 by being four-under-par for the last two rounds with a pair of 71s, good scoring under pressure when your golfing future is on the line.
Kym, 22, clawed her way back from a "nightmare" 78 which put her under even more pressure than Hannah Ralph in the fourth round. Kym just had to score a 71 or better to get back into the top 30 and, to her credit, she did just that to hit the one-over-par 293 mark.
Claire Louise Aitken (Mid Kent), a former winner of the Roehampton Gold Cup, is already a professional but she cemented her position on the Tour in 2010 with a joint 19th place finish on level par 232. Claire lurched from an opening 68 to a second-round 79 but, showed she is made of the right stuff with closing rounds of 73 and 72.
Galway-born US Curtis Cup team member in the 2008 match over the Old Course, St Andrews, Alison Walshe qualified in joint 19th place after a final round of 75 for a level par total of 292. Rather ironic, that Alison had to return to Europe, which she left as a little girl when her family emigrated from Ireland to the Boston area of America, to pursue her career as a tour pro.
Further down the leader board, five players tied for 29th place at two over par and will compete in a play-off for two spots at 9am on Tuesday morning.
England's Holly Aitchison (Bedfordshire GC), Antonella Cvitan, Julie Tvede, Cassandra Kirkland and Mollie Fankhauser are chasing the remaining two places inside the top 30 that will receive category 8 membership of the Ladies European Tour, while players in positions 31-52 will earn membership in category 10a.
Taking part in a five-for-two-places play-off right after breakfast time represents pressure with a capital "P."


After the third round, completed this morning, the cut to 50 players and ties fell to 52 players at six over par 225.
Those that missed out on a return to the Ladies European Tour included Stephanie Na, Kirsty S Taylor, Denise-Charlotte Becker, Pamela Feggans, Mianne Bagger, Frederique Seeholzer, Ana B Sanchez, Kiran Matharu, Eva Steinberger and Anna Knutsson.


TOP 30 WHO EARNED FULL PLAYING RIGHTS
Par 292 (4x73)
278

Caroline Masson (Germany) (amateur) 70 72 70 66 (1st).
280

Kristie Smith (Australia) 71 70 69 70 (2nd)
281

Maria Jose Uribe (Colombia) 69 70 70 72 (3rd).
282

Julie Maisongrosse (France) (amateur) 72 70 69 71 (4th).
283

Hannah Jun (US) 68 74 68 73, Kate Combes (Australia) 73 67 73 70 (jt 5th)
284

Dewi-Claire Schreefel (Net
herlands) 71 75 69 69 (7th).
286

Kylie Walker

(Buchanan Castle) (amateur) 72 73 68 73, Josefin Leijon (Sweden) 72 73 71 70, Maria Hernandez (Spain) 69 77 74 66 (jt 8th).
287

Hannah Ralph (England) (amateur) 70 75 71 71 (11th).
288

Ana Larraneta (Spain) 72 73 73 70, Jechae Lee (South Korea) 71 76 72 69 (jt 12th).
289

Carly Booth

(Comrie) (amateur) 70 73 72 74 (14th).
290

Emelie Lind (Sweden) 71 76 72 71 (15th).
291

Johanna Lundberg (Sweden) 69 75 73 74, Diana D'Alessio (US) 73 71 75 72, Mallory Blackwelder (US) 73 74 74 70 (jt 16th).
292 Alison Walshe (US/Ireland) 68 79 70 75, Monica Christiansen (Denmark) 75 74 71 72, Claire Louise Aitken (Mid Kent GC) 68 79 73 72, Elena Giraud (France) 75 73 72 72 (jt 19th).
293 Camille Fallay (France) 70 72 75 76, Jo Pritchard (Wales) 70 72 76 75, Pernilla Lindberg (Sweden) 66 78 76 73, Anna Rossi (Italy) 75 70 75 73, Tara Delaney (Team Ireland) 73 76 73 71, Kym Larratt (England) (amateur) 73 71 78 71 (jt 23rd).
294

(five players play off for last two places in top 30 on Tuesday morning) Holly Aitchison (Bedfordshire GC) 72 73 75 74, Antonella Cvitan (Sweden) 71 74 75 74, Julie Tvede (Denmark) 76 76 70 72, Cassandra Kirkland (France) 72 76 76 70, Millie Fankhauser (US) 76 75 73 70 (jt 29th).
Playings finishing in positions 31 to 52 earn Category 10a membership of the LET
295
Henrietta Zuel (England) 75 75 68 77, Elin Emanuelsson (Sweden) 71 72 76 76, Kim Welch (US) 73 80 70 72, Tandi Cuningham (South Africa) 68 76 79 72 (jt 34th).
296
Nathalie David-Mila (France) 78 70 71 77, Amanda Moltke-Leth (Denmark) 71 73 76 76, Melodie Bourdy (France) 71 77 73 75, Christine Hallstrom (Sweden) 73 75 74 74, Rhian Wyn Thomas (Wales) (amateur) 70 76 77 73, Kyra Van Leeuwen (Netherlands) 71 76 78 71 (jt 38th).
297
Corisande Lee (West Lancashire GC (amateur) 71 75 78 73, Stacey Keating (Australia) amateur) 74 71 80 72 (jt 44th).
298
Vicky Thomas (Australia) 75 73 77 73, Rebecca Flood (Australia) 77 73 75 73 (jt 46th).
299
Miriam Nagl (Germany) 72 79 73 75 (48th).
300
Danielle Masters (England) 73 78 73 76, Mariana Macias (Spain) 77 73 74 76 (jt 49th).
301

Clare Queen
(The Carrick on Loch Lomond) 73 75 73 80, Evan Bjarvall (Sweden) 72 77 76 76 (jt 51st).
NON-QUALIFIERS AFTER THREE ROUNDS
Par 219 (3x73)
226
Therese Nilsson (SWE) 77 74 75
227
Stephanie Na (AUS) 73 76 78, Kirsty S Taylor (Weybrook Park GC) 73 77 77, Laure Sibille (FRA) 76 74 77, Denise-Charlotte Becker (GER) 79 75 73
228
Lena Tornevall (SWE) 73 77 78, Barbara Genuini (FRA) 75 78 75, Marieke Nivard (amateur) (NET) 72 81 75
229
Lucie Andre (amateur) (FRA) 74 80 75.
230
Rachel Drummond (amateur) (ENG) 76 76 78,
Pamela Feggans
(SCO) 73 79 78.
231
Sanna Johansson (SWE) 80 78 73, Sahra Hassan (WAL) 77 78 76, Mianne Bagger (DEN) 77 77 77, Monia Bernardo (POR) 71 81 79
232
Tonya Choate (US) 76 80 76, Frederique Seeholzer (SWI) 76 76 80, Sara Beautell (ESP) 77
78 77, Ana B Sanchez (ESP) 76 82 74, Kiran Matharu (ENG) 82 76 74.
233
Emma Lyons (ENG) 82 77 74, Franziska Blum (amateur) (GER) 79 77 77
234
Line Hansen (amateur) (DEN) 75 86 73
235
Eva Steinberger (AUT) 83 75 77, Rachel Bell (ENG) 74 82 79, Zuzana Masinova (CZE) 73
83 79.
236
G Young Park (SKOR) 80 79 77, Viva Schlasberg (SWE) 79 79 78.
237
Anna Knutsson (SWE) 77 78 82
238
Cecilie Lundgreen (NOR) 78 81 79
241
Celine Herbin (FRA) 75 82 84
Retired:
Sarah Abercromby (DEN) 79
Labels: LADIES EUROPEAN TOUR