REPORT AND SCORES FROM FLORIDA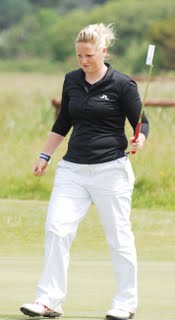 Holly Clyburn in challenging position
with a par-matching 72
NEWS RELEASE ISSUED BY ENGLISH WOMEN'S GOLF ASSOCIATION
England international Holly Clyburn kept up her fine transatlantic form to challenge the leaders in the Harder Hall Invitational, the first event on the amateur women's Orange Blossom Tour in Florida.
Holly (Woodhall Spa),
pictured right by Cal Carson Golf Agency,
shot a level par 72 in the opening round and is two shots behind a trio of American players who share first place. Another US golfer, the 14-year-old star, Alexis Thompson, is sandwiched in between on 71.
Play was delayed by rain for 90 minutes and 14 competitors have yet to complete their first round.
Last year, Holly finished seventh on her first appearance in this 72-hole strokeplay event. The 18-year-old English girls' champion has arrived at Harder Hall fresh from a fine performance in the Women's Dixie Amateur, also in Florida, where she tied for second place.
Holly is also the reigning French U-18 Open champion, the Faldo Series girls' title-holder and the winner of the 2009 English Women's Golf Association girls' Order of Merit, sponsored by Lorrin Golf. She is in the GB&I squad for this year's Curtis Cup team.
Lyndsey Hewison
Press & PR Officer, EWGA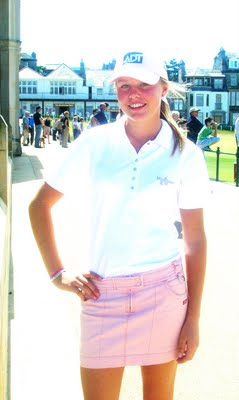 Lauren Mackin from Majorca leads

Scots in rainy start at Harder Hall
Majorca-based Scot Lauren Mackin, a member at Ranfurly Castle Golf Club, was the third best placed British or Irish player in the rain-hit first round of the Harder Hall Women's Invitational, the first event on the Orange Blossom Tour for female amateurs in Florida.
Lauren,
pictured right,
who has successes as a runner on her sporting CV, returned a two-over-par 74 over the 6,151yd course at Sebring to be lying joint 16th behind the three joint leaders, Taylor Karle (Arizona), Dolores White (Florida) and Kyle Roig (Florida).
British girls champion and Curtis Cup team place contender Holly Clyburn from Woodhall Spa, Lincolnshire headed the challenge from this side of the Atlantic. Winner of the Nick Faldo Series' girls' title in Brazil and joint second in last week's Women's Dixie Amateur in Florida, Holly matched the par of 72 to share fifth place.
Another member of the GB&I Curtis Cup squad for the 2010 match at Essex County Club, US-based teenager Stephanie Meadow was joint ninth with a 73.

Stephanie is a student at the Hank Hainey International Golf Academy, Hilton Head, South Carolina and hails from Northern Ireland where she is a member of Royal Portrush Golf Club.
Stirling University's Kesley MacDonald (Nairn Dunbar) and Rachel Cassidy (The Island, Dublin) were in joint 35th place after returning 78s.
Another Stirling student, Rebecca Wilson from Monifieth had a 81 for joint 52nd place.
Welsh international Lucy Gould (Bargoed), a student at East Tennessee State University and a Curtis Cup squad member, had an 83 for a share of 62nd place.
Stirling University's Harriet Beasley from Woburn was in joint 72nd place after an 86.
Play was held up for 90min because of rain and 14 players were unable to finish their rounds because of darkness. They included Stirling students Jordana Graham from Southerness and Eilidh MacKay (Nairn Dunbar).
Fourteen-year-old Alexis Thompson from Coral Springs, Florida, winner of the Junior Orange Bowl girls' title at Coral Gables, Florida over the Festive period and joint runner-up alongside Holly Clyburn at the Women's Dixie Amateur, is handily placed in fourth spot, only one stroke behind the joint leaders with a one-under-par 71.
Defending champion Candace Schepperle (Birmingham, Alabama) is on the same 72 mark as Holly.
FIRST ROUND SCORES
(14 players still to finish)
Par 72, 6151yd
70
Taylor Karle (Arizona), Dolores White (Florida), Kyle Roig (Florida).
71
Alexis Thompson (Florida).
72
Holly Clyburn
(Woodhall Spa, England), Candace Schepperle (Alabama), Michelle Shin (Florida), Dawn Woodard (South Carolina).
73
Brittany Benvenuti (Pennsylvania), Cydney Clanton (North Carolina), Courtney Ellenbogen (Virginia), Megan Grehan (New York),
Stephanie Meadow
(Hilton Head Island & Northern Ireland), Calle Nielson (Tennessee), Meghan Stasi (Florida).
74
Nicola Agnello (Florida), Abby Bools (North Carolina),
Lauren Mackin
(Majorca), Haley Wilson (Alabama).
75
Isabelle Lendle (Florida), Amela Lewis (Florida), Aimee Neff (Indiana).
76
Alexandra Bodemann (Florida), Jackie Chang (Arizona), Joy Kim (Virginia), Nora Lucas (Illinoir), Mary Mattson (Maryland), Whitney Neuhauser (Virginia), Paloma Nunez (Texas), Tovie St Louis (Florida), Alex Stewart (Nevada).
77
Ashley Lance (Tennessee), Emma Lavy (Arizona).
78
Jan Bowers (Illinoir), Rachel Cassidy (Stirling Univ & The Island, Dublin),
Kelsey MacDonald
(Stirling Univ & Nairn Dunbar), Wendi Golden (Florida), Kristen Simpson (Virginia), Ashley Jo Smith (Arizona), Jaclyn Sweeney (Massachusetts).
79
Jordan Allyne (Washington), Melanie Audette (Florida), Gennifer Mendez (Florida), Nicole Quinn (Florida), Sarah Thead (California), Carlie Yadloczkey (Florida).
80
Karlin Beck (Alabama), Emily Flanigan (Florida), Jaye Marie Green (Florida), Mayura Skowronski (New Jersey).
Selected scores:
81
Rebecca Wilson
(Stirling Univ & Monifieth) (jt 52nd).
83
Lucy Gould
(East Tennessee State Univ & Bargoed, Wales) (jt 62nd).
86

Harriet Beasley
(Stirling Univ & Woburn) (jt 72nd).
Still to finish include:
Jordana Graham
(Stirling Univ & Southerness),
Eilidh Mackay
(Stirling Univ & Nairn Dunbar).
LEADING SENIORS
Par 72, 5,119yd
79
Gail Brown (Florida).
82
Mary Lou Edwards (Florida).
83
Dollie Watson (North Carolina).
84
Nancy Newberry (North Carolina).
85
Helen Ferneyhough (Virginia), Susan Trombley (Pennysylvania).
86
Carroll Dethrow (Nevada), Brenda Frye (South Carolina).
Labels: Amateur Ladies, Girls, Senior ladies