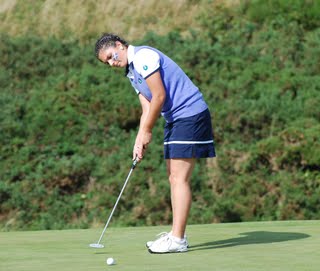 Kelsey does not want to wait another
two years for Curtis
Cup team place
By COLIN FARQUHARSON
Kelsey MacDonald gets rather annoyed when people link her with the 2012 Curtis Cup which will be played in her home town of Nairn.
The Scottish Under-21 champion for the past two years wants people - particularly the GB&I selectors - to think of her as a serious contender for a place in THIS YEAR'S Curtis Cup match at Essex County Club, Boston in June.
Kelsey, currently playing in the Hacienda del Alamo Festival in south-east Spain, wrote in an E-mail this week:
"My dream right now is to play in America for the Curtis Cup ... this year!!
"When I was a young girl I had a big dream to play the Curtis Cup when the announced venue for 2012 was Nairn. Obvouisly I stilll want to play in 2012. It is also the year I hope to finish at the University of Stirling and hopefully be preparing to turn pro.
"Of course that is still my aim but I feel very prepared to compete this year. I am not out here at Hacienda del Alamo for the fun. I am out here to prove that I am worthy candidate for a place in the GB&I Curtis Cup team of eight.
"I just feel that every time you mention Nairn, me and the 2012 Curtis Cup, you are saying to the selectors - 'We can leave Kelsey out this time - she wants to play at Nairn!'
"I was absolutely gutted last year not getting a place in the GB&I team for the Vagliano Trophy match against the Continent. On the Orange Blossom Tour, I had been third in the South Atlantic Ladies championship (the Sally), runner-up in the Jones/Doherty, runner-up in the Helen Holm Trophy, fourth in the St Rule - made the cut at the British, to be beaten by Caroline Masson, who won the German match-play championship in 2008 and won the 2008 Spanish amateur championship and represented Europe at both the 2005 and 2007 Junior Solheim Cup and also a Vagliano Trophy player for the Continent.
"So not sure what I would have had to have done to get in the GB&I team last year. I am taking part in all events possible to give me the best chance of selection this Curtis Cup year, so please do not dismiss me, thinking I will be happy waiting another two years AS I WILL NOT!"
Kelsey, only too glad to put the record straight on your behalf.
I don't think the selectors pay any attention to what I write! They will certainly look at the tournament results on Kirkwoodgolf.co.uk and they carry a lot more weight than my words.
Labels: CURTIS CUP