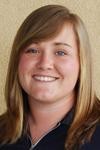 Channel Islander Olivia shares
fourth place in 'Lady Jaguar'
Channel Islander Olivia Jordan Higgins, a student at Charleston Southern University, shared fourth place in a field of 75 players at the Lady Jaguar Intercollegiate tournament over the Forest Hills Golf Club course (par 72, 5878yd) at Augusta, Georgia today.
Olivia, pictured, had rounds of 74, 74 and 76 for a total of 224 in difficult conditions.
Even the winner of the event, Madrid's Aruka Felgueroso (Coastal Carolina) struggled except for a brilliant final round of 68, which was easily the best of the tournament by anyone and gave her a four-stroke margin of victory.
Aruka's earlier rounds were 74 and 77 and her winning total was three-over-par 219.
Clara Leathers (Middle Tennessee State), a senior student from Aylesbury, had scores of 78, 77 and 77 for a total of 232 and joint 16th place.
Coastal Carolina (891) won the team title ahead of Augusta State (906) and North Carolina Wilmington (926). Middle Tennessee State (933) finish fifth and Charleston Southern (954) joint 11th in a field of 14 teams.
Labels: US COLLEGES