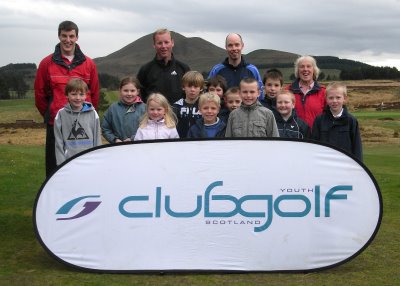 Children and coaches from West Linton Golf Club's clubgolf course (image by Rob Eyton-Jones).
West Linton initiative to coach Peebleshire kids
By ROB EYTON-JONES
West Linton Golf Club has joined the nationwide initiative to attract primary school children into the game after starting a clubgolf Stage 1 course for 22 children from West Linton and Newlands Primary Schools.
clubgolf is the national junior golf programme, a partnership between the Scottish Golf Union, the Scottish Ladies' Golfing Association, the Professional Golfers' Association, the Golf Foundation and sportscotland, developed as a result of the Scottish Government's commitment to introduce every nine-year-old child in Scotland to the game.
West Linton has an admirable attitude towards its juniors. "Juniors are the future of the game and we have a very strong junior programme," said Club Pro, Ian Wright. "We have around 120 junior members and the set up here is quite different from most clubs in that the juniors have an equal standing with the adults. If there's a tee time available they can go and use it."
Last week Mr Wright and his assistant pro, Ian Rowlands began clubgolf Stage 1 - 40 hours of coaching delivered over two years, covering the fundamentals of putting, chipping, full swing, rules and etiquette - and to their surprise 22 local children turned up.
"We had hoped to get over a dozen so to get 22 on the programme is an excellent response," said Mr Wright. "They are really excited about it and are having fun."
An added benefit is that the majority of the programme's 22 children are from non-golfing families and are unlikely to have started the game had it not been for an initiation at school through clubgolf's introductory game, firstclubgolf.
Taught with multi-coloured modified clubs, rubberised balls and Velcro targets, firstclubgolf gives nine year olds an enjoyable and safe first experience of the game. Over 26,000 children in Scotland were given firstclubgolf coaching last year, a figure which should rise to 30,000 in 2008.
Paul Murray, Active Schools Co-ordinator for the Peebles school cluster, who delivered the firstclubgolf programme said, "Last term we delivered firstclubgolf to two P5 classes, that's almost 60 children, in West Linton and Newlands Primaries.
"We are really pleased that the Club has come on board to give the children coaching - and there is a good mix of boys and girls - and delighted that almost half of the children we taught in school have decided to take the next step.
"Only two or three kids we taught in the schools had ever been to a golf club before; the rest had never tried the game. The sheer numbers that wanted to take this on proves the levels of enthusiasm.
"Each year we will keep building on this and get more P5s playing. We're also in discussion with other clubs in the area and they seem keen to get involved with the clubgolf programme and start their own coaching."
Labels: clubgolf