Scottish amateur championship at Lossiemouth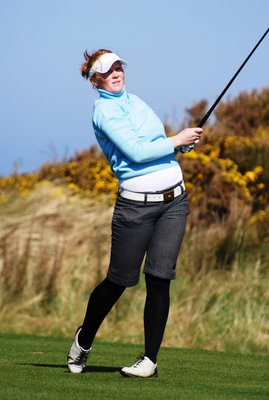 COULD UPSET
FAVOURITE MICHELE
Big-hitter Michele Thomson from Ellon near Aberdeen does not have to drive very far to get to the venue for this week's 93rd staging of the Scottish women's amateur championship over the Moray Golf Club's Old Course at Lossiemouth.
The 20-year-old, selected to play for GB&I in the Curtis Cup match at St Andrews at the end of the month, is the obvious favourite on paper to win. Twelve months ago, Miss Thomson lost in extra holes to Emily Ogilvy (Auchterarder) at the semi-final stage at Kilmarnock Barassie.
The player with outstanding recent form when it comes to links play is an obvious threat - Kylie Walker (Buchanan Castle),
picture left by Cal Carson Golf Agency (all rights reserved).

Apart from winning the Dunbartonshire & Argyll county title, Kylie, a 21-year-old full-time amateur golfer, finished an impressive top Scot in the Helen Holm Scottish women's open amateur championship at Troon two or three weeks ago.
Kylie's final round of 69 over a par-75 course made her only the second female player ever to break 70 over the Royal Troon championship links.
That kind of stroke-play form, if repeated over a shorter Lossie course but with a higher par - 76 - over the 36-hole qualifying test on Tuesday and Wednesday would go close to earning her the No 1 seed berth among the 32 qualifiers for the match-play stages which begin on Thursday and end with an 18-hole final on Saturday morning.
"My short game was very poor when I failed to beat the cut in the Helen Holm Scottish stroke-play at Troon two or three weeks ago," said Michele who has since had some short-game practice, on the advice of Paul Lawrie with his erstwhile coach, Adam Hunter.
Both Paul and Michele have the same full-time coach, Meldrum House's Neil Marr.
There were signs of a distinct improvement on Sunday when Miss Thomson finished a close-up fifth behind winner Laura Murray (Alford) in the Ness Open over 36 holes at Inverness.
Michele is the only one of the four Scots selected for the GB&I team to play the United States in the Curtis Cup match over the Old Course, St Andrews at the end of the month who is not in the United States at the moment.
Krystle Caithness (St Regulus) and her American college, Georgia, have qualified for the NCAA championship finals in New Mexico the week before the Curtis Cup match.
Sally Watson (Elie & Earlsferry) is a live-in student at the David Leadbetter Academy in Bradenton Florida.
And 15-year-old Carly Booth has gone back to Red Mountain High School in Mesa, Arizona.
In a perfect world, the "Scottish" would be played at a time of the year when all the talented Scots at US colleges - not just the present generation but future generations to come, as they surely will - would be available to play.
Labels: Amateur Ladies, Girls