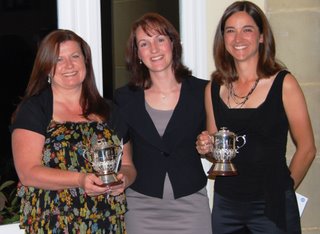 The winning Surrey pairing of Jayne Coles and Claire Pettitt from the Burhill club with Peugot representative Catherine Bowles after the presentation of the trophies at St Andrews.
Picture by courtesy of the Ladies Golf Union.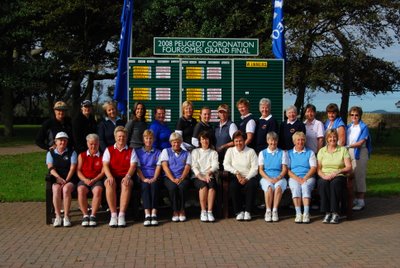 The 12 pairings who made it through to the Grand Final at St Andrews (image courtesy of Ladies Golf Union). You can enlarge the size by clicking on it.
DUNS PAIR PIPPED FOR LGU FOURSOMES
FIRST PRIZE OVER EDEN COURSE

The Surrey pairing of Jayne Coles and Claire Pettitt pipped Duns' Katie Massie and Eileen Preston for first place in the Ladies Golf Union's Peugeot Coronation Foursomes Grand Final over the Eden Course, St Andrews today (Monday).
The final was contested by the 12 pairs who won area finals after an original entry of 34,000 competing locally at 1,300 individual golf clubs.
All the finalists enjoyed two nights' accommodation in the luxurious Old Course Hotel
pairs also enjoy two nights accommodation in the luxurious Old Course Hotel as part of their prize.
Jayne Coles, who plays off 21, and her partner Claire Pettitt, who has 22 of a handicap, are members of Burhill Golf Club. They totalled 42 Stableford points to win by 2pt from Kate Massie, who plays off 12 at Duns, and Eileen Preston, who is a 13-handicapper.
The bonus prize for Jayne and Claire was a place in the pro-am for the 2009 Ricoh Women's British Open at Royal Lytham & St Anne'a.
The first and second pairs finished well clear of the field.
In third place with 33pt were Lesley Turner and Joe White of the Trent Lock club who won a card countback against three other couples who had the same points total.
Other Scots in the field were Kinghorn's Fiona Rollo (21) and Lynn Petrie (12) who totalled 25pt and Williamwood's Jennifer Graham and Ruthe Henderson, both playing off 1. They had 23 points to their credit.
HOW THEY FINISHED
42pt Burhill: Jayne Coles (21) & Claire Pettitt (22).
40pt Duns: Katie Massie (12) & Elieen Preston (13).
33pt Trent Lock: Lesley Turner (17) & Jo White (Trent Lock) (21), Hallamshire: Julia Brewin (36) & Margaret Riley (28), Dewstow: Janet Scholey (24) & Rosemary Anstey (Dewstow) (22), Bourn: Ann Burbridge (21) & Kim Morley (27).
31pt Southampton: Gillian Murphy (19) & Coleen White (22).
30pt Bush Hill Park: Cela Selley (17) & Valerie Weaver (13).
29pt Baron Hill: Elizabeth Madine (19) & Deborah Roberts (17).
25pt Richmond: Jean Brown (26) & Annie Sutherland ((34), Kinghorn: Fiona Rollo (21) & Lynn Petrie (12).
23pt Williamwood: Jennifer Graham (11) & Ruth Henderson (11).


Labels: Amateur Ladies