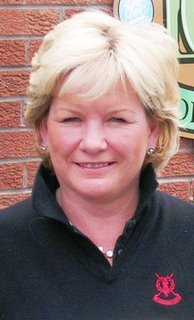 FIONA DE VRIES WINS SCOTTISH
VETERANS' CHAMPIONSHIP
St Andrews hotelier Fiona de Vries, first-round leader and eventually sixth in last week's Senior British women's open amateur golf championship at Hilton Templepatrick, near Belfast, won the Scottish Veteran Ladies Golf Association championship, contested by the eight area veteran championship winners over the Lansdowne course, Blairgowrie.
Fiona,
pictured right,
did not have it all her own way by any means. In the morning semi-finals, the St Rule player had to go to the 20th to take the measure of Sheila Cuthbertson, the Borders veterans' champion.
In the other semi-final, Vivien Welsh (Highland) scored an upset win over former title-holder Kathleen Sutherland (Northern) by one hole.
The final went all the way before Fiona beat Vivien on the 18th green.
Labels: Senior ladies