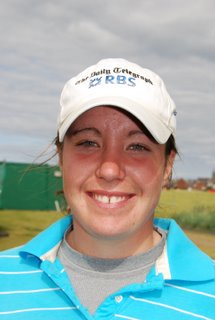 Ellie and Hannah in picture with
a round to go in Colorado

English players Ellie Givens (Denver University) and Hannah Burke (Baylor University, Texas) were lying joint seventh and 12th going into the final round of the Ron Moore Women's Intercollegiate tournament at Highlands Ranch Golf Club, Colorado.
Former English girls champion Ellie, pictured right by Cal Carson Golf Agency, from Darlington had one of the leading second-rounds, a six-birdie, four-under-par 68, as she followed up an opening 78 for a 36-hole tally of 146.
Hannah Burke from Hertfordshire has had a pair of 74s for 148, which included a double bogey in both rounds.
Jane Chin (UC Irvine) leads with 69 and 67 for 136.
Denver have a big lead in the team event.
Par 144 (2 x 72) 6,605yd
136 Jane Chin (UC Irvine) 69 67.
138 Stephanie Sherlock (Denver) 67 71.
140 Eric Moston (San Diego State) 68 72.
Other selected scores:

146 Ellie Givens (Denver) 78 68 (jt 7th).
148 Hannah Burke (Baylor) 74 74 (jt 12th).
573 Denver.
591 San Jose State.
594 Texas Christian.
Also:
611 UC Davis (7th).
612 Baylor (8th of 13 teams).
Labels: US COLLEGES