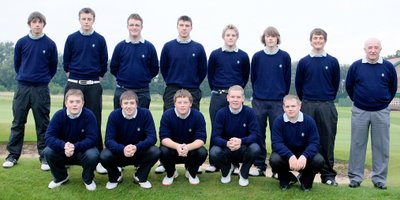 Tom Ward's exclusive picture of the Scotland schoolboys team at Royal Lytham & St Annes. Click on the image if you want to enlarge it.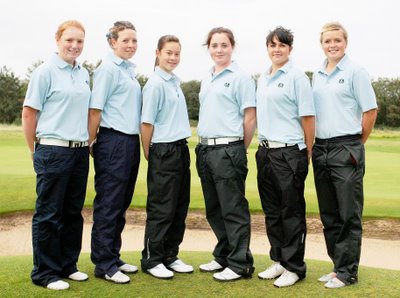 The Scotland schoolgirls at Royal Lytham & St Anne's. Left to right: Eilidh Briggs, Rachael McQueen, Lesley Atkins, Jill Meldrum, Kelsey MacDonald, Sammy Vass (image by courtesy of Tom Ward).
INJURY-HIT SCOTS SCHOOLBOYS LOSE NARROWLY
BUT SCHOOLGIRLS GO DOWN 7-2

England narrowly beat Scotland in the annual schoolboys' golf international match at Royal Lytham & St Anne's Golf Club, Lancashire today (Monday) ... but the Scots were well beaten in the schoolgirls' contest at the same venue.
In the boys' match, the scores were tied at 3-3 afer the morning foursomes and it went right down to the wire in the singles, at the end of which England had won by a single point, 9 1/2-8 1/2.
Chris Corbett (St Joseph's College, Dumfries) injured his back and had to retire after five holes of his foursomes match with Sam Strachan (Fraserburgh Academy) against Jamie Brittain and John Evans.
That match was conceded by the Scots to the English. Corbett was unable to play his afternoon singles tie against Luke Bramhall but the organisers agreed that it should be declared a halved match.
Matt Kippen clinched overall victory for England by beating Ian Redford (St Leonards School, St Andrews) by 3 and 2.
In the girls' match, England won 7-2 after taking the foursomes 2-1.
Had it not been for Sammy Vass from Tain holing an 20ft birdie putt on the last to beat Heidi Baek by one hole, England would have been a clean sweep of the six singles.
Details:
ENGLAND SCHOOLBOYS 9 1/2, SCOTLAND SCHOOLBOYS 8 1/2
Foursomes (3-3)
G Romano & J Titlow lost to M Kelly (Trinity High, Rutherglen) & C Robb (Banchory Acad) 4 and 3.
L Bramhall & S Wells lost to O Huish (North Berwick High) & T Sharkey (St Patrick's High, Dumbarton) 2 and 1.
J Brittain & J Evans w.o. S Strachan (Fraserburgh Acad) & C Corbett (St Joseph's College, Dumfries) retired (injured).
L Johnson & B Stow bt I Redford (St Leonards School, St Andrews) & A Tester (Dollar Acad) 5 and 4.
T King & T Brown lost to P Shields (Trinity High, Rutherglen) & A Dunton (Ellon Acad) 3 and 2.
M Kippen & R Sutton bt M Reid (St John's High, Dundee) & C Bremner (Mearns Acad, Laurencekirk) 7 and 6.
Singles (6 1/2-5 1/2)
Titlow bt Robb 2 and 1.
Romano bt Reid 6 and 5.
Bramhall halved with Corbett.
Wells bt Sharkey 5 and 4.
Brittain lost to Dunton 4 and 3.
Evans bt Bremner 7 and 6.
Johnston lost to Shields 3 and 2.
Stow lost to Huish 2 and 1.
Brown lost to Tester 2 and 1.
King bt Kelly 6 and 5.
Kippen bt Redford 3 and 2.
Sutton lost to Strachan 2 and 1.
ENGLAND SCHOOLGIRLS 7, SCOTLAND SCHOOLGIRLS 2
Foursomes (2-1):
Holly Clyburn & Jamie-Leigh Vouss bt Kelsey MacDonald (Nairn Acad) & Sammy Vass (Tain Royal Acad) 2 holes.
Heidi Baek & Sophie Godley bt Eilidh Briggs (Gryffe High, Johnstone) & Rachael McQueen (Marr College, Troon) 2 and 1.
Katherine O'Connor & Emilee Taylor lost to Lesley Atkins (Hawick High) & Jill Meldrum (Lenzie Acad) 2 and 1.
Singles (5-1):
Clyburn bt MacDonald 2 and 1.
Voss bt Meldrum 6 and 4.
Baek lost to Vass 1 hole.
Godley bt McQueen 3 and 2.
O'Connor bt Briggs 5 and 4.
Taylor bt Atkins 2 and 1.
Labels: Schools