Alexandra Bushby wins Scottish Champion of Champions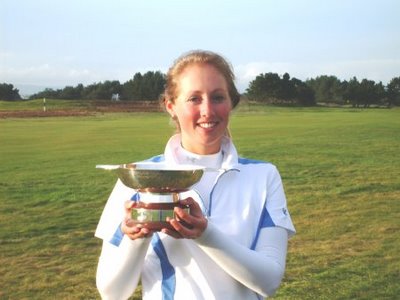 Alexandra Bushby from Perthshire, who qualified as North of Scotland Champion, won the Scottish Ladies' Golfing Association Champion of Champions tournament after a playoff over the Glasgow Gailes links in Ayrshire this afternoon.
Alexandra had tied with her P&K teammate, Carly Booth, who qualified as Scottish Girls Champion, on 76, and although Alex had a better inward half, the rules stipulated a playoff in the event of a tie. Carly outdrove her on the first hole, but Alexandra put her second nicely on the green and holed for a birdie 3 and the CofC Championship.
Midlothian Champion, Rachael Livingston carded a 78 and took third place on the better inward half from Cara Gruber (Northern Counties)
[Photo Courtesy of SLGA]
Full results
Par 75, SSS 77, CSS 77
76 Alexandra Bushby (North of Scotland), Carly Booth (Scottish Girls) [Bushby won after a playoff]
78 Rachael Livingstone (Midlothian) bih, Cara Gruber (Northern Counties)
79 Mary Smith (Senior Strokeplay)
80 Susan Wood (Lanarkshire)
82 Fiona de Vries (Veterans)
83 Laura Walker (Perth and Kinross)
86 Megan Briggs (Renfrewshire)
87 Rebecca Wilson (Angus), Lrna Bennett (Senior Matchplay)
88 Ruth Carroll (East Lothian), Lindsay Kirkwood (Dumfriesshire)
Labels: Amateur Ladies