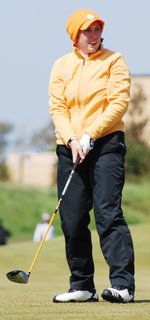 Rebecca joint 13th after first round
of Mercedes Benz Championship

Rebecca Watson has had one of her best rounds as a Tennessee University team player to share 13th place individually and help her college lead the team event in the Mercedes Benz Women's Championship, hosted by Tennessee University, at Fox Den Country Club, Knoxville.
Elie & Earlsferry Ladies Golf Club member Rebecca, pictured right by Cal Carson Golf Agency, from South Queensferry, shot a level par 72 over the 6,058yd course to be four shots behind the three joint leaders, Sydney Crane (North Carolina), Lauren Doughtie (North Carolina State) and Marika Lendl (UCF).
Jacqueline Hedwall (Louisiana State University), twin sister of Caroline who is spearheading Sweden to victory in the Espirito Santo Trophy in Australia, had a 74 to be joint 31st.
Former English girls champion Ellie Givens (Denver) had a 77 to be joint 61st in a field of 96.
Tennessee (283) lead from North Carolina (289), North Carolina State (290) and Louisiana State (291) in a field of 18 teams.
Labels: US COLLEGES