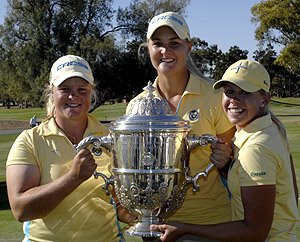 SWEDES ARE WORLD
TEAM
CHAMPIONS
BY 12 STROKES
PRESS RELEASE FROM INTERNATIONAL
GOLF FEDERATION
Adelaide, Australia (11 October) – Sweden held the lead from the start to finish to capture the Espirito Santo Trophy and win the 2008 Women's World Amateur Team Championship by 12 strokes over Spain and 14 over the USA at The Grange Golf Club's East and West courses.
With a three-under-par 69 from Anna Nordqvist and a 2-under-par 70 from Caroline Hedwall, the Swedes finished at 19-under-par 561, just three strokes off the lowest score in championship history set by the USA in 1998 (558). Their 12-stroke margin of victory was the most since the USA won by 21 in 1998.
"It's a fantastic feeling," Sweden's captain Walter Danewid said. "I am not surprised we are here because they are really good players. It's been advertised that this event would have the stars of tomorrow. They lived up to that."
Sweden, the only team to have finished in the top 10 in all 23 competitions, won its second championship after taking the victory in Puerto Rico in 2004. Their wire-to-wire win was the first in 18 years, since the USA did so in 1990.
"I was asked: 'What is the secret to our success?," Danewid said. "It's hard work. There's no secret."
Spain finished second at 7-under 573 and could not make up the large deficit.
"We tried as hard as we could," Spanish captain Macarena Campomanes, who was on two Espirito Santo winning teams. "But they were too many shots ahead."
The best move of the day came from the USA. Amanda Blumenherst shot 4-under 68 and Tiffany Joh added a 3-under 69 for 137, the second-lowest final round score in history. The Americans jumped from a tie for 17th after the first day to third-place.
"The first day was like the wind out of our sails,"' Blumenherst said. "We definitely fought back and played hard the last three days."
The Americans posted the lowest score in the final 36 holes (279) in championship history.
Canada finished fourth at 583, followed by Japan in fifth at 584, Germany in sixth at 585, England in seventh at 586, Netherlands and Denmark tied for eighth at 587 and defending champion South Africa in 10th at 588.
Although there is not individual recognition, Caroline Hedwall of Sweden was the low scorer at 10-under-par 280.
The next Espirito Santo Trophy tournament will be staged in South America in 2010 - Buenos Aires, Argentina.
Scots skipper Fiona Norris disappointed
KAY SMART REPORTS FROM ADELAIDE
Scotland finished joint 11th in the women's world amateur team championship for the Espirito Santo Trophy in Adelaide today.
Their 72-hole total of 592 was the same as that posted by Korea – and captain Fiona Norris could not hide her disappointment.
"We did not do ourselves justice. We had a lot of bad drives. Obviously the team had the ability to finish higher, having pulled up so much yesterday. The damage was done on the second day but nevertheless they tried their best and one cannot fault their effort and application.They are a great team,"said Norris.
A major plus point was the form of 19-year-old Curtis Cup player Krystle Caithness who ended up in joint sixth place in the individual standings alongside England's Jodi Ewart.
Caithness had rounds of 71, 73, 71 and 75 for a 290 aggregate some 10 strokes behind Sweden's Caroline Hedwall, the best individual.
Back-to-back birdies on 4 and 5, where she sank good putts, put Caithness on the right track but bunker trouble at the sixth cost her a double bogey and she had bogeys at 7 and 8, both because of missed short putts, and the 12th.
It was the Caithness score that was discounted today as British stroke-play champion Roseanne Niven had a par 72 on the Grange West course and said afterwards "It has been an exciting event and I would like to start again now."
Kylie Walker likewise recorded her best score of the four days, a 73 which looked like being a 69 until she had two late double bogeys.
SCROLL DOWN TO SEE ALL THE TOTALS AND THE SCOTS' CARDS
Labels: Amateur Ladies