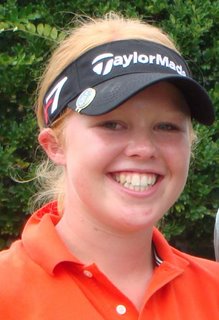 Stephanie Meadow leads
by five in North Carolina

Stephanie Meadow, the South Carolina-based Irish girls champion of 2006 and beaten finalist in 2007, is heading for a second big win on the American junior circuit in a matter of weeks.
She leads the girls' section of the Golfweek Junior Invitational tournament by five shots with one round to go in the 54-hole event at Little River Golf Club, Carthage in North Carolina.
Stephanie, a former pupil of Belfast High School, crammed 11 birdies into the first two rounds of 67 (33-34) and 70 (36-34) over the 5888yd, par-72 course.
At seven-under-par 137, the 16-year-old redhead from Jordanstown, Northern Ireland has a five-shot advantage over her closest rivals, Americans Marisa Kamelgarn (70-72) and Sarah Brown (70-72) in the field of 32.
Stephanie won an International Junior Golf Tour event in Florida near the end of September.
Home for Stephanie and her parents is now Hilton Head Island, South Carolina. They moved there in in 20o6 so that she could become a resident pupil at the International Junior Golf Academy.
A five-hour school day ends at lunchtime, leaving her plenty of time for golf practice, coaching and fitness work in the gymnasium.
"Northern Ireland is a wonderful place to live but it's not exactly a sun trap in the winter," says Stephanie.
"At home, the only chance I had to practise in the winter was in the morning before I went to school. And in the wet and the cold my hands would often turn blue. Here, in South Carolina, it's a lot warmer and much more enjoyable."
Her ambitions are to become a full Ireland international team member - she has already played for the Irish girls' team - and also play for Great Britain & Ireland in the Curtis Cup before she turns professional, presumably after four years playing on the US women's college circuit as a student at one of the top colleges.
Labels: Girls