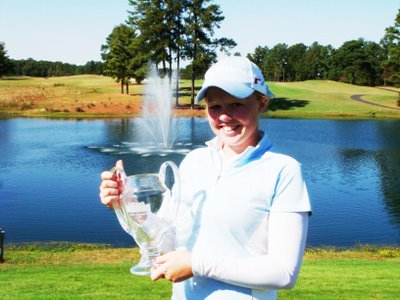 Stephanie Meadow
wins again in
United States

Stephanie Meadow, the US-based Irish girls champion of 2006, scored her second big junior tournament in America within a matter of weeks at the weekend.
The 16-year-old from Jordanstown, Northern Ireland, a resident student at the International Junior Golf Academy, Hilton Head Island, South Carolina, led throughout to win the prestigious Golfweek Invitational girls' championship over three rounds at Little River Golf Club, Carthage in North Carolinia. She is pictured above with the girls' championship trophy
Stephanie had rounds of 67, 70 and 74 for a five-under-par total of 211 over the 5888yd, par-72 course. She had 14 birdies over the 54 holes, including title-clinching efforts at the short 16th and long 17th in the final round when she was coming under pressure from the American Junior Ryder Cup player, 16-year-old Sarah Brown, the New Jersey women's champion.
Sarah finished with rounds of 70, 72 and 71 (including birdies at the 12th, 16th and 18th in her last round) for 213, two shots short of catching Stephanie who also won on the International Junior Golf Tour in Florida at the end of September.
Stephanie's ambition is to gain a full cap for the Ireland women's international team - she is already a girls international - and also to play for Great Britain & Ireland in the Curtis Cup.
The way she is going, Miss Meadow is a certainty for an Ireland cap ... and who knows for the 2010 Curtis Cup at Essex, Massachusetts or, more likely, the 2012 Curtis Cup staging at Nairn Golf Club?
She moved to South Carolina with her parents at the end of 2006 so that she could have ideal conditions, summer and winter, to improve her golf. The move is paying off.
GOLFWEEK INVITATIONAL
LEADING FINAL TOTALS
Par 216 (3 x 72) 5888yd
211 Stephanie Meadow 67 70 74.
213 Sarah Brown 70 72 71.
215 Haley Stephens 69 75 70.
215 Marisa Kamelgarn 70 72 73.
220 Marika Liu 71 75 74.
221 Suzie Lee 72 77 72.
Field of 32 players.
Labels: Girls