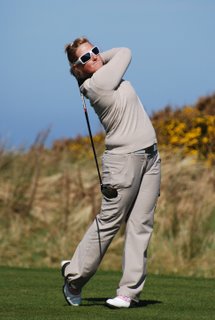 Holly Clyburn leads girls'
scoring against the boys

Junior international Holly Clyburn (pictured right by Cal Carson Golf Agency) led the England Under-18 girls' scoring in their annual match against the England Under-16 boys at Woodhall Spa.
Holly, 17, was playing on her home course and was unbeaten, contributing 1½ points to the scoreline. But her efforts were unable to prevent a comprehensive boys' victory of 10-5.
However, Linda Bayman, performance director of the English Women's Golf Association, was undismayed. "This was a very useful training match for a new, young team and it has provided us with plenty of information," she said.
The girls made a slow start in the morning foursomes when they struggled around the greens. They managed only a half-point from five matches, courtesy of Holly and fellow girl international Heidi Baek.
However, they provided the boys with a much stronger challenge in the afternoon with some good, attacking play.
Holly, who was playing top, secured her singles point when she defeated Matthew Chapman on the final green. English schools' champion Jamie-Leigh Voss beat James Carney – despite his albatross 2 on the sixth hole.
Other points for the girls were scored by Rachael Goodall, the Northern girls' champion, and Hayley Davis, the South-west ladies' scratch champion. Helen Searle, who played impressively for Yorkshire during the County Finals, halved her game.
RESULTS
Foursomes (1/2-4 1/2)
Heidi Baek (Felixstowe Ferry) and Holly Clyburn (Woodhall Spa) halved with E Peters and M Chapman.
Rachael Goodall (Heswall) and Ellie Robinson (Middlesborough) lost to L Johnson and J Carney 2 holes.
Sian Evans (Faversham) and Helen Searle (West End) lost to L Harper and T Tree 2 holes.
Hannah Turland (Tidworth Garrison) and Jamie-Leigh Voss (Kirby Muxloe) lost to O Carr and S Nixon 2 and 1.
Hayley Davis (Ferndown) and Lauren Taylor (Woburn) lost to W Chambers and C Walsh 4 and 3.
Singles (4 1/2-5 1/2)
Clyburn bt Chapman 1 hole.
Robinson lost to Peters 2 and 1.
Goodall bt Johnson 1 hole.
Baek lost to Harper 3 and 1.
Voss bt Carney 3 and 1.
Davis bt Chambers 3 and 2.
Taylor lost to Tree 4 and 3.
Turland lost to Walsh 4 and 3.
Searle halved with Carr.
Evans lost to Nixon 3 and 2.
Lyndsey Hewison
Press & PR Officer

English Women's Golf Association
Footnote from Colin Farquharson, Tournament Controller, 2009 Hacienda del Alamo Women's Winter Golf Festival:
Holly Clyburn is one of the early entries for the Hacienda del Alamo Women's Winter Golf Festival at the five-star resort in Murcia, Spain - four tournaments over six days from February 12 to 17. Take your pick .. or play in them all.
The Hacienda Winter Golf Festival is on the list of recommended tournaments for players to bring themselves to the notice of the GB&I Selection Committee for the 2009 Vagliano Trophy match.