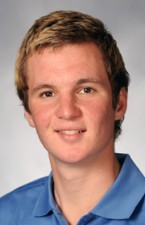 Michael Stewart's best
yet in America - joint
sixth in Tennessee
Scottish boys' match-play title-holder Michael Stewart from Irvine finished joint sixth in the Bank of Tennessee @ The Ridges men's college tournament at The Ridges Golf & Country Club, Jonesborough, Tennessee (on Sunday).
It was the 18-year-old's highest finish on the US college golf circuit since he started a four-year golf scholarship at East Tennessee State University in Johnson City at the end of August.
Stewart had rounds of 73, 69 and 74 for a level par tally of 216 over the par-72, 7146yd course.
He had seven birdies over rounds one and two but could conjure up only one on the final day which saw him slip from a share of fourth place at the start of the round.
Stewart bogeyed the seventh, ninth and 18th after his birdie at the fourth in his last round.
The Scot was not the highest-placed finisher from the East Tennesssee State squad of five. Welsh cap Rhys Enoch from Cortnall fied for second place on 215 - one shot behind winner Darren Blair (North Carolina State) - with rounds of 71, 73 and 71.
But former British boys champion Jordan Findlay from Fraserburgh, in his final year as a student at East Tennessee State, had a tournament he will want to forget very quickly.
Findlay, 20, had scores of 93, 83 and 78 for a total of 254, 38 over par. He finished last of the 75 players although he was not a member of the East Tennessee State team for this event. He was playing as an individual.
Stewart's great effort enabled East Tennessee State to make a bold bid for the team title. They finished just one shot behind winners Coast Carolina in a field of 14 teams.
LEADING INDIVIDUAL TOTALS
Par 288 (4 x 72)
210 Darren Blair (North Carolina State) 71 69 70.
215 Zack Byrd (Coastal Carolina) 71 70 74, Rhys Enoch (East Tennessee State) 71 73 71, Dustrin Groves (Wake Forest) 72 72 71, Zack Sucher (Alabama-Birmingham) 71 72 72.
Other British/Irish students' totals:
216 Michael Stewart (East Tennessee State) 73 69 74 (jt 6th).
218 Chris Paisley (Tennessee) 72 70 76 (jt 14th).
220 Paul O'Kane (East Tennessee State) 72 74 74, Seamus Power (East Tennessee State) 73 74 73 (jt 18th).
227 Garrick Porteous (Tennessee) 82 74 71, Jason Shufflebotham (Alabama-Birmingham) 74 77 76.
254 Jordan Findlay (East Tennessee State) 93 83 78 (75th).
LEADING TEAM TOTALS
869 Coastal Carolina. 870 East Tennessee State. 871 Wake Forest. 875 North Carolina State. 14 teams took part.
Labels: US COLLEGES