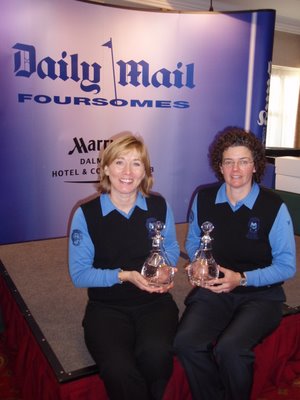 Sally Hamilton and Gale Macpherson (Loudoun Gowf) with their prizes at the conclusion of the Daily Mail Women's Foursomes Grand Final at Dalmahoy (Thanks to Sally for providing the picture).
Daily Mail Women's Foursomes
Grand Final at Dalmahoy
Sally Hamilton (Loudoun Gowf) reports

:
Due to the terrible weather over the weekend of the finals the format was changed on the first day to one Stableford round with the top four teams from 16 progressing to the semi-finals.
Loudoun Gowf (Sally Hamilton and Gale Macpherson) were lucky enough to be in the top four.
Again, due to the weather on day two, the format was changed from match-play to Stableford stroke-play and, unfortunately, we played the last four holes poorly.
Many thanks to Janet Thomson (partner of Nicola Gemmell as Anstruther's pairing) for E-mailing me the result sheet, which I had been unable to get from the organisers.
Here it is:
NORTHAMPTONSHIRE COUNTY (Kelly Hanwell & Kirstie Jennings) 32pt.
WILLESLEY PARK (Joanne Morris & Tracy Bourne) 29pt.
SHANDON PARK (Jacqui Young & Jenny Young) 28pt.
LOUDOUN (Sally Hamilton & Gale Macpherson) 27pt).
ANSTRUTHER (Nicola Gemmell & Janet Thomson) 37pt.
CAMBERLEY HEATH (Lesley Silver & Susan Evans) 34pt.
CARNOUSTIE CALEDONIA (Sheila Brunton & Ros Fletcher) 33pt (better back 9).
PENMAENMAWR (Carolyn O'Leary & Alison Hughes) 33pt.
MANCHESTER (Elaine Clark & Karen Clayton) 30pt (better back 9).
OAKDALE (Karen Leake & Julie Hewson) 30pt.
MORRISTON (Nicola Torrington & Jayne Davies) 29pt.
STRATHMORE (Alexandra Bushby & Sandy Bushby) 27pt.
THE MILLBROOK (Sandra Gardner & Nikki Jackson) 23pt (best back 9).
STOKE BY NAYLAND (Margaret Bentley & Sybil Paton) 23pt (better back 9).
PRINCE'S (Elizabeth Carlotti & Pamela McGuirk) 23pt.
FINGLE GLEN (Sandra Townsley & Ann Short) 15pt.
Labels: Amateur Ladies