Round-up of tournament news from US college circuit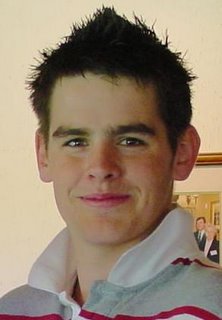 Adam Lindsay wins in Kansas
Banchory's Adam Lindsay, a student at Iowa Wesleyan College, has won the Swede Spring Invitational men's college golf tournament over two courses at McPherson, Kansas this week.
Lindsay,
pictured right
, scored 71 and 68 over the Turkey Creek (par 71) and Salina Elks (par 70) lay-outs for a two-under-par total of 139. He won by a shot from team-mate Adam Moyes and Josh Manske (Grand View).
Graeme Molloy (Grand View) from Glasgow finished joint 11th in a field of 88 players on 153 with scores of 72 and 81
Iowa Wesleyan (594) also won the team event by two strokes from Bethany College in a field of 14 teams.
KEVIN DUNCAN JT 58th IN ALABAMA
Kevin Duncan (Clayton State University) from Ellon finished tied 58th in a field of 71 at the Samford Intercollegiate over the Limestone Springs course at Oneonta, Alabama.
Over a 6987yd course with a par of 72, Kevin had scores of 78, 75 an d84 for a total of 237.
Team-mate Neil McBride from Glasgow finished joint 61st with scores of 78, 75 and 86 for 239.
A third Clayton State University, Atlanta team member, Will Wilcox finished joint first on seven-under-par 209 with scores of 71, 67 and 71. He tied with Cameron Carrico (Murray State) (70-66-73).
Murray State (959) won the team event ahead of Kennesaw State (868) with Clayton State (892) tied fifth in a field of 13 teams.
FRASER McKENNA JUST MAKES TOP 50 IN LOUISIANA
Glasgow's Fraser McKenna (Southeastern Louisiana University) tied for 47th place in a field of 84 players for the 24th Annual Louisiana Classic at Oakbarne Country Club, Lafayette, Louisiana.
Fraser scored 74, 74 and 77 for a total of 225 over the par-72, 7141yd course.
Alex Hogben (Missouri-Kansas City) from Manchester scored 74, 74 and 72 for 220 and a shared of 26th place.
Graham Benson, a team-mate of McKenna's from Leighton Buzzard, finished joint 31st on 222 with scores of 70, 78 and 84.
Mark Trow (Memphis) from Oswestry finished joint 62nd with rounds of 76, 80 and 73 and a total of 229.
Adam Cornelson (New Orleans) and Cedric Scotto (Southeastern Louisiana) tied for first place on 210. Cornelson scored 73, 68 and 69; Scotto 68, 69 and 73.
New Orleans (858) won the team title by a shot from Louisiana-Lafayette, with Southern Methodist (863) third and Southeastern Louisiana tieing with Texas State on 872 for fourth place in a field of 15 teams.
PUERTO RICO TRIP FOR NEIL HENDERSON
Past Scottish schoolboys champion Neil Henderson (Old Dominion University) from North Berwick got a trip to Puerto Rico this past week for the Palmas Del Mar Intercollegiate at The Flamboyan Golf Club.
Over a par-72, 6931yd course, Neil scored 78, 71 and 76 for a total of 225 - 14 shots behind the winner, Will Bowman (UNC Greenboro) who scored 67, 71 and 73.
PETER LATIMER JT 15th AT PORT ST LUCIE
Peter Latimer from Markinch, a student at Guilford College, Greensboro, North Carolina, finished joint 15th in a field of 33 players for a one-round event, trhe Minnesota State Spring Invitational at the PGA Village Golf Club, Port St Lucie, Florida.
Peter had a 79 (40-39) over a longish course (7037yd) with a par of 72.
Winner by three shots was Justin Hueber (Indianapolis) with a 68 (32-36).
DOUBLE WHAMMY FOR COACH COLETTE MURRAY
Harriet Owers-Bradley (Yale University) from Nottingham came joint 40th in a field of 81 players for the Eagle Landing Invitational women's college tournament at Eagle Landing Golf Club, Orange Park in Florida.
Harrier scored 78, 76 and 77 for a total of 231 over a 6282yd course with a par of 72.
The tournament provided a double whammy for Colette Murray, the Scots-born head coach of the Chattanooga-Tennessee women's team.
One of the players she brought to the university on a golf scholarship, Emma de Groot was the individual winner by four shots with scores of 72, 71 and 69 for four-under-par 212.
And Chattanooga-Tennessee (866) won the team event by 13 shots from East Carolina in a field of 15 teams.
Well done, Colette!
Labels: US COLLEGES