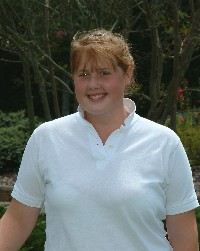 Charlene Reid joint runner-up
in North Carolina
Charlene Reid (Pfeiffer University) from Antrim tied for second place in a field of 40 for the Dana Rader Intercollegiate women's tournament at the Ballantyne Resort, Charlotte in North Carolina.
Over a par-72 course of 5810yd, Charlene, pictured right, had rounds of 76 and 77 for a total of 153, the same as Camilla Mallberg (Queens University), six shots behind the winner, Pfeiffer team-mate Brittany Beltran who had roounds of 72 and 75.
Pfeiffer (615) won the team title by an overwhelming margin from Queen's University, North Carolina (654) in a field of eight teams.
Labels: US COLLEGES