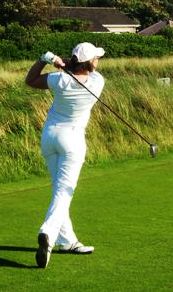 Lizi keeps concentration in a slow
burn at Red River Collegiate
Leighton Buzzard's Lizi Sweetnam,
pictured right,
continued her successful start on the American college golf circuit with improvements for the third week running in the Red River Intercollegiate tournament at Winstar Golf and Country Club, Thackerville in Oklahoma.
She maintained her concentration in the heat through two marathon rounds, each lasting well over six hours, to post scores of 79 and 77 for a total of 156. She narrowly missed a third top ten finish by a single shot, tied in joint 14th spot, and just four strokes off a top-three finish in a field of 64.
Raelyn Smith (Angelo State) was the individual winner by eight strokes with a three-under-par total of 141, made up of rounds of 69 and 72. Carla Cooper (Tarleton State) was runner-up on 149 with scores of 74 and 75.
Lizi Sweetnam was the only Seminole State team player in the top 20 so not surprising that they finished ninth of 12 in the event won by Tarleton State (603) from West Texas A&M (621).
Labels: US COLLEGES