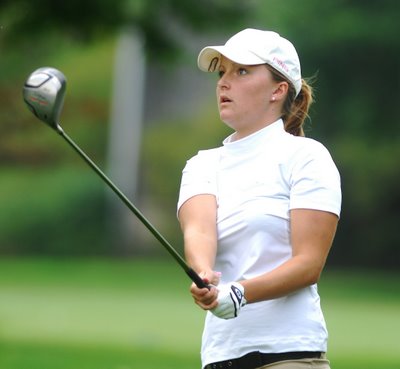 Hannah Lovelock in action (image by courtesy of Leaderboardphotography.com)
Hannah Lovelock improves by seven in Nevada
Hannah Lovelock (Missouri University) from Surrey improved by seven strokes in the second round of the UNLV Spring Rebel Invitational at Boulder Creek Golf Club, Nevada - despite having a double bogey 7 at the long first hole (she started at the 10th).
Hannah had a triple bogey and a double bogey in a first-round 82 but her 75 included birdies at the fifth, 12th, 13th and 16th in halves of 40 and 35.
She is currently sharing 42nd place - an improvement of six places - on 157 behind three players sharing the pole position on level par 144 - Natalie Gleadall (Nebraska) (77-67), Marta Silva (Georgia) (70-74) and Ulrika Van Niekirk (Texas Tech) (74-70).
UNLV (595) lead the team event ahead of Texas Tech (597) and Georgia (604). Missouri (662) are lying 11th in a field of 18 teams.
Labels: US COLLEGES