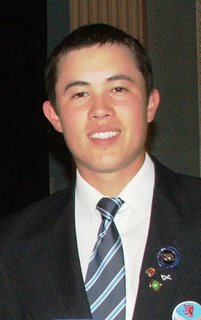 James Byrne runs up a 10 in
79 at Fresno State Classic
Banchory's James Byrne, a 20-year-old second-year student at Arizona State University, ran up a 10 at the par-5 ninth hole during a final round of seven-over-par 79 in the Fresno State Classic men's college tournament at Belmont Country Club, Fresno State in California.
Having started at the 10th, it was the last hole Byrne,
pictured right by Cal Carson Golf Agency
, played and, following a pair of 76s, his disappointing total of 15-over-par 231 earned him a share of 73rd place in a field of 104 players.
Andrew Cooley (San Diego State) had rounds of 73, 72 and 73 for a creditable joint 14th place for the freshman from Surrey.
Ramie Sprinkling (UC-Davis) was the individual winner by twoshots with scores of 68, 75 and 69 for four-under-par 212.
Washington University (865) won the team title ahead of Fresno State (870) with Arizona State (911) trailing in 16th of the 20 teams.
LEADING FINAL TOTALS
Par 216 (3 x 72)
212 Ramie Sprinkling (UC Davis) 68 75 69.
214 Todd Angel (Fresno State) 69 73 72, Colin Featherstone (San Diego State) 75 71 69, Nick Taylor (Washington) 72 70 72.
Selected totals:
218 Andrew Cooley (San Diego State) 73 72 73 (jt 14th).
231 James Byrne (Arizona State) 76 76 79 (jt 73rd).
LEADING TEAM TOTALS
865 Washington. 870 Fresno State. 876 UC-Davis, UC-Irvine. 877 San Diego State.
Selected total:
911 Arizona State (16th of 20 teams)
Labels: US COLLEGES