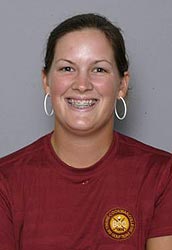 Fern Grimshaw wins and top
20 places for Emma, Hannah
Fern Grimshaw from Dorset, a senior (fourth-year) student at Bethune-Cookman College, Daytona Beach in Florida, has won the Don Benbow Invitational women's college tournament at Jacksonville Beach Golf Club in Jacksonville, Florida.
Fern, pictured right, had rounds of 72 and 71 for a three-over-par tally at the par-70, 5810yd course.
She won by one shot from Clare Cornelius (Butler University) (74-70).
Two other Bethune-Cookman College students from England, Emma Taylor, a senior year student from Devon, and junior (third year) student Hannah Bews from Dorset, finished joint eighth and 19th respectively.
Emma scored 75 and 79 for 154, Hannah 82 and 77 for 159 in a field of 62 players
Bethune Cookman College won the team title with a total of 607, 16 shots ahead of runners-up Detroit Mercy University in a field of 11 teams.
Carley tied 17th, Katy 33rd in Peggy Kirk Bell Invitational
Carnoustie's Katy McNicoll (Lynn University, Boca Raton, Florida) had rounds of 78, 74 and 76 for a total of 238 and 33rd place in a field of 76 players for the Peggy Kirk Bell Invitational women's college tournament at the quaintly-named Tuscawilla Country Club, Western Springs in Florida (par-72, 6089yd).
Derbyshire's Carley Warrington (Belmont Abbey College) tied for 17th place with scores of 74, 80 and 77 for 231
Winner by nine shots with a fine six-under-par total fo 210 was Sandra Changkija (Nova Southeastern) with scores of 71, 71 and 68.
Nova Southeastern (898) won the team event by a single shot from Rollins College with Florida Southern (900) third, Lynn (909) fourth and Belmont Abbey (944) fifth in a field of 14 teams.
Labels: US COLLEGES